Goodspeed Gets Going on Smart Expansion
ASIA - Goodspeed International, Pas Reform's Representative in Thailand, has geared up for further expansion in Asia with an intensive program to train the company's growing number of technicians and support personnel.
The training program, developed by the Pas Reform Academy, was designed to arm Goodspeed's personnel with an in depth understanding of the Smart Incubation System, so that they can not only deliver comprehensive training for their customers onsite, but also to enable onward inhouse training programs, as the company's support team continues to grow.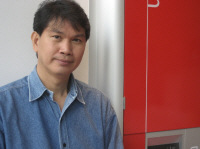 Goodspeed's Managing Director Mr. Somnuk Hophaisarn
With 16 years' experience in the Thai poultry sector, Goodspeed's Managing Director Mr. Somnuk Hophaisarn is a respected and highly regarded partner in the industry. And having represented one of the largest poultry businesses in Thailand for 15 years, Goodspeed is now focused on developing the range and depth of Pas Reform's commercial services throughout Thailand - and beyond.

Somnuk comments: "Pas Reform is realising important growth in Asia, reaching from India in the west all the way to South Korea in the east - and with substantial inroads also being made into Australia.

"By developing our technical support capabilities in this way, Goodspeed will be well placed to support this growth with local teams of installation specialists, incubator maintenance technicians and trouble-shooters." Goodspeed's intensive training programme, the 25th such program to be run by Pas Reform since the launch of its Smart incubation system in 2004, was held at the single stage hatchery specialists' Zeddam headquarters, in The Netherlands.

Covering all aspects of Smart incubation technologies, and including the latest updates on hatchery automation and climate control, the training program's key focus was to provide sound, hands-on knowledge transfer related to hatchery design, equipment start-up, maintenance and trouble-shooting.

"Mr. Somnuk and his team have greatly enhanced Pas Reform's localised technical support capabilities in Thailand, " commends company CEO Mr Bart Aangenendt, "We have great admiration for Somnuk's decision to further develop Goodspeed's technical skills - and for his ambitions for the company as a premier service provider and partner to Pas Reform in South East Asia".