Green, Free-Range and Noble Eggs
UK - New Eco friendly eggs have been launched by producer Noble Foods that combine both free range eggs and recyclable egg packaging. The eggs will go under the label 'Ecowise'.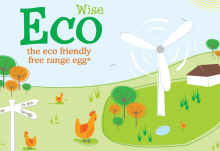 The company say they have developed the Ecowise egg concept to provide the environmentally conscious consumer the option to eat greener eggs by choosing a pack that can be recycled and a method of production which is not only free range but also minimises the effects of carbon on the planet

"The Eco project seeks to produce the power each farm needs for lighting, heating and refrigeration etc through renewable energy sources via the use of wind turbines. Additional foliage and mature trees assist in capturing carbon from the environment but also enrich the range for the hens," says Mrs. Finn Cottle Marketing Director of Noble Foods.

The Ecowise hens are well tended, free to roam under the trees and come and go as they please during the day and kept warm and safe indoors at night. Ecowise eggs are laid by British hens, eating a cereal based vegetarian diet and are accredited by the British Lion Code of Practice

Cottle concludes: "Noble Foods as a company is planning a range of initiatives to reduce packaging materials and the impact we have on the environment. The packaging on our Ecowise eggs is made from recycled and compostible materials and eventually we would like to take the labels off the pack too."

The Ecowise egg will ensure that Noble Foods are at the front of the Eco revolution for egg production. Ecowise eggs are available from the Co-op at a cost of £1.49 for 6 eggs.