Hellman's: The Free Range Mayonnaise
UK - Mayonnaise manufacturer, Hellman's, has made the decision to use only free range eggs in its product starting as early as June 2008.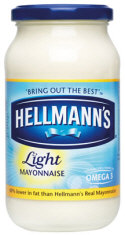 Responding to growing media attention and consumer concern for chickens, a Hellmann's spokesperson said: "Hellmann's UK mayonnaise is in transition with sourcing its eggs. From February 2008, eggs used will be from free-range birds and by June 2008 all Hellmann's Mayonnaise on the supermarket shelves will have been made using free-range eggs.

"Hellmann's UK has proactively chosen to make this change and work started on this project back in 2006. It has taken some time because it was important that Hellmann's could ensure continuity of supply when dealing with such large volumes. Increased production of free-range eggs has now enabled Hellmann's to move supply."

Compassion in World Farming Food Policy Manager, Rowen West-Henzell, said: "We are delighted by this move, which demonstrates that Hellmann's is serious about farm animal welfare. Its decision will help nearly two hundred thousand laying hens out of cages every year.

"Not only that, Hellmann's UK is showing tremendous leadership in an area that often goes unnoticed - egg product. Many consumers buy free-range whole eggs but forget to do the same with other products that contain egg, like cakes and mayonnaise. By going completely free-range in the UK, Hellmann's is really helping British consumers make clear ethical choices."

The announcement came after sustained media attention on the welfare of chickens in food production. Compassion in World Farming has met with Hellmann's previously in relation to their sourcing policies and will continue our dialogue with their team. The move qualifies Hellmann's UK to be nominated for a Good Egg Award - winners of which will be announced at the end of April 2008.

If you want to help hens remember to buy free-range egg products as well as free-range shell eggs. Look out for free-range cakes, biscuits, mayonnaise and check out our chickens home page.