Morris Goes Single-Stage with Smart in the USA
US - Single-stage incubation specialist Pas Reform makes its operational debut in the USA in New York State, with a new agreement from Morris Hatchery, Inc. for the delivery and installation of a state of the art single stage hatchery.
The hatchery, due to start operations in Spring 2008, will have an opening capacity of half a million day old broilers per week.

This is, says CEO Bart Aangenendt, a landmark signing for Pas Reform - signaling the next phase in the European company's global expansion as a leading manufacturer of incubators, hatchery climate control and hatchery automation systems.

The hatchery will be built during spring 2008 - and equipped with SmartSet™ 77 setters, each with a capacity of 76800 eggs, and SmartHatch™ hatchers with capacities of 19,200 eggs each.

Broiler incubation programs will be mainly for Morris Hatchery's clients in Canada, as well as for deliveries within the USA. Ed Morris, owner and CEO of Morris Hatchery, Inc. explains: "We have made rigorous comparisons on the different systems available, and had set our mind to single stage incubation because it will produce better uniformity in our day old broilers.

"With 35 years' experience in developing and delivering single stage hatchery systems and technologies, Pas Reform stood apart as the most compelling and convincing partner for us in this new venture. The quality and durability of their machines, combined with ease of operation, seem to offer a good fit for the US market.

Their commitment to technical service, incubation knowledge and training will be geared to ensuring that we immediately see the results not only from incubation, but also during the first week of the broiler's life."

The new hatchery will, says Mr. Morris, be a showcase operation for the sector in the USA.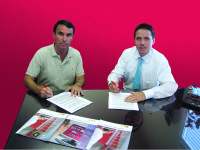 Mr. Ed Morris, Owner and CEO of Morris Hatchery, Inc. and Mr. Bouke Hamminga, Business Development Manager Pas Reform Hatchery Technologies, sign the contract for Pas Reform's first state-of-the-art single-stage Smart hatchery in the USA.
Bouke Hamminga, Pas Reform's Business Development manager, confirms that this is probably the most important step Pas Reform will take during 2007-2008. "Entry to the USA is a key strategic ambition for [Pas Reform]. We could not have envisaged a better scenario, than to develop a complete, fully equipped, state of the art customer hatchery as our debut in America", he says.

CEO Aangenendt concludes, "This new Agreement is absolutely a landmark for Pas Reform, not only in the USA - but as part of our fullscale international expansion strategy. And we are fully committed to building a strong, sustainable presence in North America over the coming years."

Family owned and operated Morris Hatchery, Inc. was founded in 1962, as a poultry breeding, hatching and growing business.

Expansion and business development have seen Morris Hatchery become a major breeder of many different poultry strains, all housed in more than 250,000 sq.ft. of breeding and growing space, as well as expanding their operations to become one of the world's leading exporters of hatching eggs.