New Zealand and the Survival of the Fittest
NEW ZEALAND - New Zealand's meat industry will have to make some big adaptions in order to keep pace with the rapidly evolving global meat industry, a new report has warned.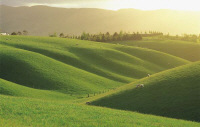 New Zealand
Changes in supply and demand combined with increasingly volatile commodity cycles, complex foreign consumer demands and dynamic agricultural conditions will all conspire to force producers and processors to innovate and seek new efficiencies.

The Global Focus report titled New Zealand's meat industry – adapting to change, by leading food and agribusiness bank Rabobank, says that unprecedented shifts in demand and supply and increasingly volatile commodity cycles will conspire to force producers and processors to innovate and seek new efficiencies.

However despite the changing land use, static or falling livestock numbers and rising production costs that are facing the industry, international market conditions for New Zealand's meat products are largely favourable, and should offer opportunities for improved profitability for farmers in the medium to long term says the report's author, Rabobank senior analyst Hayley Moynihan.

"Consumers in New Zealand's premium export markets are demanding enhanced product attributes, yet growth in meat demand is accelerating fastest in markets for lower value meat products. With lower New Zealand production levels, the industry will face increasing pressure to choose between a focus on high value markets or expanding exports into new emerging markets for commodity proteins," she says.
World Demand Outweighing New Zealand Supply
Demand for New Zealand's meat exports is increasing, but supply is under pressure.

During 2007, both New Zealand and Australia only filled their US beef quotas to around 77 per cent due to supply constraints and economic returns available. Accordingly, the report states that headroom exists to substantially increase New Zealand beef exports, particularly to the US, as that market is experiencing a considerable degree of uncertainty and cow beef production is expected to move lower during 2008.

Meanwhile, the declining European sheep flock presents additional opportunity for New Zealand sheepmeat. "With demand relatively steady," says Ms Moynihan, "the gap in sheepmeat availability will largely be filled by New Zealand within the constraints of the existing quota".

Australia 's emergence from drought is expected to ease record lamb production there and is likely to trigger flock rebuilding, the report continues. With New Zealand's own flock declining from land use change and climatic events, global lamb availability over the short to medium term will move to a lower level, alongside firming product prices.

Lower New Zealand venison supply, meanwhile, is already providing producer benefits, says Ms Moynihan. "The market for venison remains small, but with good levels of demand. The remaining New Zealand deer farmers are committed to the industry which will provide more stability to herd numbers and production volumes.

"This longer-term perspective will assist in avoiding the roller-coaster production and price ride this industry has experienced to date."
Declining Export Volumes
Rabobank expects New Zealand's export meat volumes to move lower during 2008 and 2009, with supplies of beef, lamb and venison all likely to reduce as the herd or flock size declines.

This reduced New Zealand meat production, says Ms Moynihan, will have implications for other parts of the supply chain, particularly the processing industry. "The costs associated with these changes will be reflected in livestock prices and returns until capacity adjusts," she says.

"Volume is still important for international trade," Ms Moynihan notes. " New Zealand has always punched above its weight in agricultural export markets and will need to continue to do this."
Challenge to New Zealand's competitive edge
The report states that the competitive grass-based New Zealand pastoral farming model is being challenged by rising land and farm input costs. "Lower production costs have proved successful for New Zealand's exports; however the gap appears to be narrowing," says Ms Moynihan. "Cost competitiveness can no longer be relied upon in export markets and so other forms of product differentiation are required."

Grappling with the impact of the government's climate change policy and the implementation of an Emissions Trading Scheme (ETS) will also ensure an increased focus on livestock emissions and environmental costs, says the report. "The additional costs that New Zealand's farmers will bear to comply with new regulatory targets will be unavoidable," says Ms Moynihan.

Although agricultural industries will not fall under the policy until 2013, the impact will influence farming and investment decisions much earlier, the report states.
Meat sector prices lagging globally
The Rabobank report says the meat sector is unlikely to see the same sharp boom in prices that has been witnessed in other agricultural commodities due to relatively long production cycles and the ability of consumers to switch between categories and products across the meat sector.


"However prices will need to increase in order for production to be maintained at current levels within this higher-cost environment or producers will cut back output to remain economically viable," Ms Moynihan says. "To this extent, a more gradual firming of meat prices is likely."
'Third millennium' issues
With consumer income levels one of the key determinants associated with meat consumption, the report states that understanding where consumers sit along the spectrum of desired food items and product attributes is critical to the success of producers and manufacturers. "The dilemma for New Zealand's meat industry in positioning and marketing its products is how to best exploit the opportunities available in increasingly distinct markets." says Ms Moynihan.

New Zealand 's pasture-based farming systems can be expected to benefit from the current uplift in the agricultural commodity price cycle.

However Ms Moynihan says this advantage is likely to be tempered by the challenge of having to meet the emerging 'third millennium' consumers issues including product traceability, disease-free status, fair trade, animal welfare, sustainable production methods, 'food miles' and carbon footprint.

"The burden of cost and responsibility for implementing standards and procedures for third millennium issues will fall very close to the farm gate," Ms Moynihan warns. " New Zealand's agricultural exports already enjoy a positive reputation with consumers internationally. However many third millennium issues will challenge that reputation unless consumers are well informed and New Zealand continues to ensure that it leads the way in meeting consumer requirements."
Adaptation will be the key to success
"Changing consumer trends in meat consumption and international market conditions have added complexity, but many of the required attributes fit New Zealand products well," states Ms Moynihan. "The challenge for the New Zealand industry is to determine which market opportunities to focus on and how to best meet those market needs in the face of lower production levels."