Pas Reform Appoints International Project Manager
NETHERLANDS - Dutch hatchery technology company Pas Reform is expanding its international Project Management Team, with the appointment of Mr. Wim Hazekamp to the role of project manager.
In his new position, Wim will manage the entire lifecycle of hatchery projects, from the development of initial project plans and design recommendations, to carrying out on-site evaluations and final testing.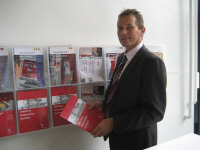 Wim Hazekamp, Project Manager
Wim will be in day-to-day communication with Pas Reform's customers around the world, providing professional consultancy services to help customers build high-performance hatcheries.

As a Graduate in Waste Water Management with an Engineering degree, Wim has gained extensive Project Management experience over the past 10 years. Most recently he worked for Contour Covering Technology, an international business based in The Netherlands. Prior to that, Wim worked as a project manager for six years at Nijhuis Water Technology, another Dutch company, specialising in the design and supply of industrial waste water treatment systems, predominantly for food processing plant applications in feedmills and slaughterhouses.

Wim will, says Pas Reform's CEO Bart Aangenendt, bring fresh focus and energy to the hatchery company's next phase of development. "As [our] operations continue to demonstrate strong growth worldwide", says Aangenendt, "the work of experienced Project Managers like Wim, with an eye for the big picture as well as for the detail, will continue to ensure that we deliver relevant, highly efficient solutions for our customers".

Speaking about his new appointment, Wim Hazekamp concludes: "I am genuinely excited to be joining this very dynamic and innovative company.

"The opportunity to work at the forefront of hatchery technologies in the fast growing global poultry industry is a new challenge for me - and one I'm very much looking to."