Aviagen Launches the Ross Rowan
EU - The latest addition to the Aviagen product range is the Ross Rowan, a brown-feathered male that is attracting considerable interest throughout the UK and Western Europe.
The Ross Rowan has been developed for the speciality markets, such as free range and organic, and is a product like no other on the market, providing customers with a coloured broiler, which is slower growing yet still offers excellent meat yield. Add to this the strengths of all Ross products, such as excellent liveability and low feed conversion rates, and customers can be assured that the Ross Rowan will consistently add value to their business.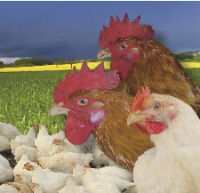 Customers have even greater flexibility with the Ross Rowan, being able to mate this with their existing Ross females to produce slower growing broilers, without compromising on performance, and without the extra cost and inconvenience of purchasing and rearing additional female birds. Like all other Aviagen products, the Ross Rowan has been subject to the same rigorous internal and external testing and trialling to ensure the product performs to expected high levels.

The Ross Rowan's introduction at this time, with the current demand for slower growing products in the UK, is testament to Aviagen's world-leading R&D department, who are in constant contact with customers, legislative bodies and other industry groups in order to ensure that they continue to understand the challenges and opportunities facing the poultry industry. Armed with this knowledge, they then begin developing products that will meet the needs of the industry today, tomorrow and well into the future.

Jim McAdam, UK Breeding Programme Director, commented: "We have been developing the Ross Rowan since 2002 and it has performed well in internal and customer trials. This new product is another example of Aviagen working closely with customers to understand their requirements and to develop products to add value to their business."

Val Mendeleev, President, European Operations added: "The Ross Rowan has been developed specifically for the UK market and will further enhance our already comprehensive product range. We are committed to providing customers with the best possible products and service in order to enable them to achieve maximum returns."