Measuring Carbon Footprints of Pigs and Poultry
UK - A new programme to map the carbon footprint of the production of pig and poultry products was launched at the British Pig and Poultry Fair this week.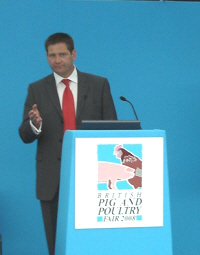 Prof David Oglethorpe
The project, commissioned by Associated British Nutrition (ABN) was carried out by the Newcastle Business School at Northumbria University.

It looks at the carbon footprint of products beyond the farmgate throguh the supply chain to the end consumer.

This is claimed to be the first time the carbon footprint on entire products has been covered.

Through the project, ABN has been working with Ermine Farms, Hook, 2 Sisters and Cherry Valley Farms, as well as Newcastle Business School at Northumbria University to develop the Carbon Footprint Blueprint.

Speaking at the fair, Prof David Oglethorpe who headed up the research said: "Like other life cycle analyses (LCAs) we are mapping the supply chains for a selection of pig and poultry products by tracing them through the manufacture and growing inputs, primary production operations, first and second tier processing and then through packaging, presentation and distribution.

"What has been novel about this project has been the collaboration and coming together of supply chain partners to make this happen and bring it to life.

"Previous LCAs haven't necessarily followed real case studies, whereas this has enabled us to focus down on the environmental burdens within some key supply chains and identify where the major C02-equivalents contributions actually are. By doing this, we now know what the carbon footprints of these products are and, more importantly, are beginning to understand how to reduce them."

Professor Oglethorpe added: "Most of the work done by other researchers has stopped at the farm gate. But, we have gone further to develop an approach that will help producers, processors and retailers identify their carbon footprints and manage them more efficiently to meet the demands of increasingly environmentally conscious consumers."

Prof Oglethorpe believes that the School's exclusive work, which was part of a wider project to map out food supply chains for Defra, positions ABN as industry leaders in this developing field.

He said: "It provides ABN with the answers and the solutions to help producers, processors and retailers, as they come under increasing pressure from the retailers to reduce their carbon footprints."

Prof Oglethorpe added: "This concept will now be taken forward by a PhD student, who will be sponsored by ABN, at the School over the next three years. This will add academic credibility, validation and continued development, not just for agriculture, but for other industries and supply chains, too."

Simon Heath, ABN Director of Business Solutions, said: "We have been working with Professor Oglethorpe and his team at the Newcastle Business School to develop a viable system and process.

"It's not just about being able to accurately measure the kilograms of carbon produced per kg of meat, we also needed to ensure we could develop a process that will allow monitoring and continuous improvement programmes to drive the carbon efficiency of farms and the food supply chain." Nigel Lee, ABN Business Development Manager, added: "ABN will use this independent work to help to unite the food supply chain and create a differentiated product based on knowledge, partnership and innovation to add value for everybody.

"Producers need to make sure they are positioned to meet the challenges of tomorrow's consumer demands. The environment is increasingly influencing consumers' purchasing decisions and I feel it's ABN's role to help identify those trends and develop a strategy working with our partners to ensure we are ready to meet the ever-changing demands."

Now ABN is sponsoring a Phd student at Newcastle business school to continue the research.