Aviagen Holds Seminar in Czech Republic
CZECH REPUBLIC - More than 100 customers from the Czech Republic and Slovakia gathered in Mistrin, near the Czech-Slovak border, for the annual Aviagen seminar. The two-day event was aimed at broiler and breeder farmers and offered practical management advice on how to get the best from their Ross products.
The speakers at the seminar were all members of Aviagen's regional customer focus team and discussed topics such as the importance of a good chick start, vaccination and ventilation. There were also a number of social activities on offer, including a boat trip, a visit to Milotice Castle and a barbecue with wine tasting and traditional entertainment.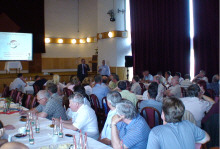 Vlada Zima, Sales and Technical Manager commented, "This event was a great opportunity to celebrate the excellent relationships between the Aviagen team and our Czech and Slovak customers. Seminars such as these are a very effective way to bring our customers together and inform them of new developments within Aviagen and the region as well as providing a platform to exchange information on the performance of Ross products."

Regional Technical Manager Jonny Harrison added, "The regional technical team has grown substantially in recent months and this event was a good opportunity to introduce the new team members to our Czech and Slovak customers. We are committed to providing all of our customers with the very best technical service and relevant, up-to-date and timely management advice to help them get the best possible performance from their Ross products."