CME: Corn and Soybean Futures Surge Higher
US - CME's Daily Livestock Report for 5th June, 2008.
Corn and soybean futures surged higher on Thursday on concerns that wet and cold weather across the US Midwest could further damage the new crop and lead to lower than expected yields and possibly a reduction in the overall area expected to be harvested. This is a critical time for the US livestock industry. The main premise of livestock production for the last few decades has been to rely heavily on ample corn and soybean supplies in order to make the US a top meat producing and exporting country. With the wide availability of affordable meat protein (given US incomes), the US consumer became accustomed to a high meat protein diet and current domestic meat consumption is well over 200 pounds per person, some 25 pounds per person more than it was back in the 1970s. The expansion in meat protein availability, however, has been predicated on a relatively steady and predictable supply of feedstock. Indeed, when studies are done that corn price spikes do not generally have a big impact on meat prices, the conclusion reflects the history of the last 25 years. When corn prices spiked due to drought or crop failure, the industry knew that more acres would be plated a few months later, brining the feed supply in balance and moderating prices. It was an all too predictable pattern. Those studies do not account, however, for what happens when there is a shock to the system, a shock similar to what happened back in 1973-74 and a shock similar to what is taking place today, with crude oil prices at $130/barrel and a currency that is able to purchase ever less in the global market.
| E-Livestock Volume | 5-Jun | 4-Jun | 29-May |
| --- | --- | --- | --- |
| LE (E-Live Cattle): | 8,859 | 7,955 | 9,292 |
| GF (E-Feeder Cattle): | 463 | 177 | 207 |
| HE (E-Lean Hogs): | 18,686 | 15,276 | 15,810 |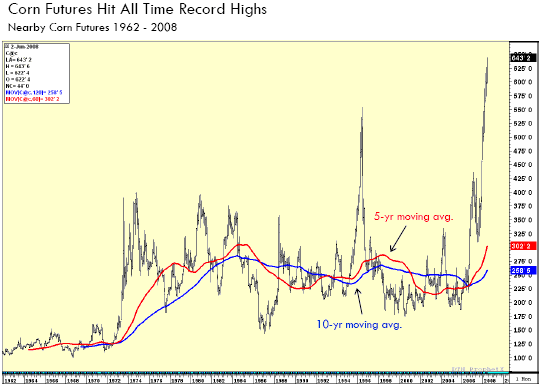 Generally rain in June means good news for grain producers. But as with commodity trading, timing in farming is everything. The slow start of the season means that there are still some acres that have yet to be plated with corn. We have seen estimates of as many as 4 million acres of corn that have yet to be planted while the planting season for soybeans is still in full swing. In some cases, producers have had to replant acres more than once and we are at a time of the year when producers could abandon planting of those acres altogether and opt to take the prevent planting insurance. The market also may be anticipating a possible USDA reduction in expected corn yields in the upcoming supply and demand report. Indeed, it will be interesting to see how the supply and demand table shapes up if we have a double whammy of lower than expected planted acres and lower yields. One can still make ending stocks work out but that would require some notable rationing of domestic use and exports. And with the US dollar buying less these days, livestock producers are behind the eight ball.