CME: Corn and Soybean Plantings
US - CME's Daily Livestock Report for 9th June, 2008.
All eyes will be on USDA's monthly Crop Production report and World Supply and Demand Estimates (WASDE) Tuesday morning to see what, if any, changes USDA's statisticians and economists have made to estimates for this year's corn production numbers. It is pretty unusual for USDA to make any dramatic changes in the June report since planted acreage and crop condition are still unknown but respondents to DowJones Newswire's monthly pre-report survey think that some small changes may be made. The ranges and averages of those estimates appear in the table at right. We have to wonder just where USDA will reduce 2007-08 usage to bring year-end stocks upward as these analysts expect.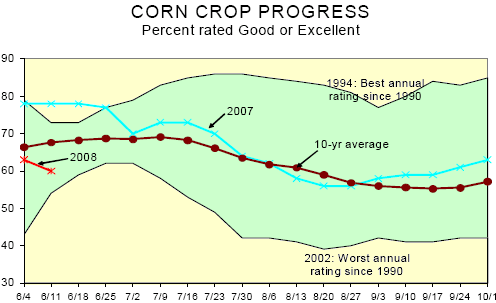 Meanwhile, conditions have deteriorated for this year's corn and soybean crop. The percentage of corn acres rated good and excellent by USDA fell by 3% to just 60% this week. The graph at left shows the best and worst years as well as the 10-year average ratings and those for last year and this. This year's good-excellent percentage is still 6% ahead of 2002 but the proximity to the year of the worst average annual ratings and the trend are both concerning, especially given the amount of rain received in the Midwest this past week. River conditions in Iowa are fast approaching those of 1993's record year for flooding. Several central Iowa rivers are projected to crest above 1993 levels later this week even without further rain.
E-Livestock Volume
6/9/08
6/6/08
6/2/08
LE (E-Live Cattle):
7,843
11,060
7,166
GF (E-Feeder Cattle):
413
405
315
HE (E-Lean Hogs):
20,731
23,597*
17,075
*Denotes a new record for Globex volume
USDA's weekly Crop Progress report did not include an update to last week's 95% of all acres planted, indicating that few more may be planted. See charts on page 2. USDA's next estimate for total 2007 acres will come in the Acreage report on June 30. Corn had emerged on 89% of all acres as of Sunday. That compares to 99% last year and a 5- year average of 95% and still leaves 2008 as the slowest year on record for corn emergence.

Soybean planting progress slowed sharply last week, with only 8% being added to the previous week's 69%. This week's 77% compares to 94% last year and a 10-year average of 89%. Soybean emergence, at just 32%, is the slowest on record.

That's the bad news for grain buyers but there is some good news — there is still time to make these crops! Iowa State University climatologist Dr. Elwyn Taylor told audiences Thursday and Friday at World Pork Expo that the threat of drought has lessened dramatically and that, though heat-degree days have lagged behind their normal level, they could still reach a level to provide good yields. His objective yield estimates for the U.S. as of last week, based on 100 years of yield data, are 148 bushels/acre for corn and 37 bushels/acre for soybeans.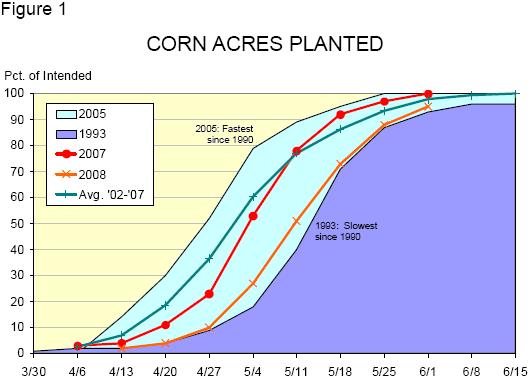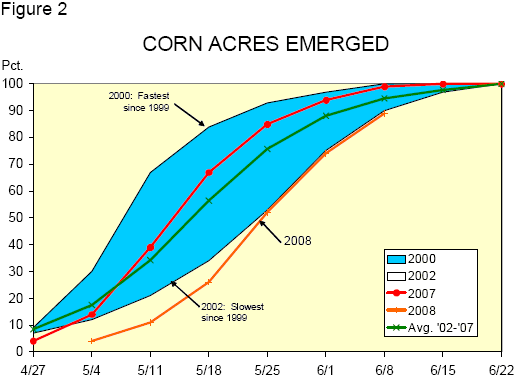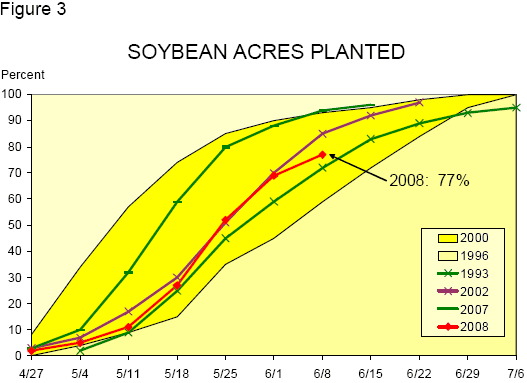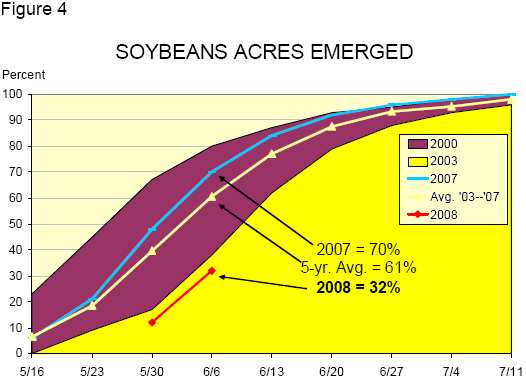 Further Reading