Cobb Technical School's Value in 'Solving the Puzzle'
US - Over 40 customer companies from 19 countries attended the Cobb-Vantress annual world technical school at the global headquarters in Siloam Springs, Arkansas, USA.
Throughout the two weeks the delegates spent in Arkansas, time was divided between the classroom and a selection of specific, hands-on exercises designed to build on and implement a broad range of technical improvements in overall production and processing management. Members of the Cobb world technical support team were the main instructors in a range of topics involving breeder and broiler nutrition, health, environment, ventilation, processing and hatchery management.

The theme of this year's school was 'solving the puzzle' - all materials were shaped in puzzle pieces, as a reminder that the learning could be used to directly improve performance and solve problems in their own businesses.

"This is one of the most important events we host for our customers each year," said Stan Reid, vice president of sales and marketing and world technical support. "The topics themselves are important in helping our customers improve chicken management, but even greater value is gained through the relationships developed by customers from the various regions."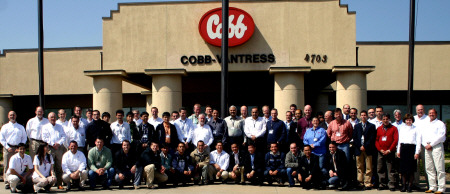 Representatives pictured outside the Siloam Springs headquarters