Focus on Feed Costs at Cobb Conference in Greece
GREECE - More than 200 poultry farmers and technical advisers representing over 70 per cent of the Greek and Cypriot broiler industries attended a conference on breeder management at Ioannina in northern Greece.
The event was organised by Kego SA with support from Cobb Europe and Cobb Germany. Rodolfos Gogorosis, managing director of Kego, highlighted the need, with current rising commodity prices, to control feed inputs and their cost while maximising egg and meat production. "This is something of course that the Cobb 500 excels at," he commented.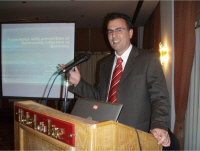 Dr George Kefalas, giving his presentation
James Truscott, director of Cobb Germany, stated: "It's been a real pleasure to see how our customers interacted with the professional speakers from Kego, Cobb Europe and Cobb Germany.

"The Greek chicken meat industry discussed how to further improve its performance with the Cobb 500, which is gaining market share not only in Greece but in our other market areas too. Cobb's new male is showing its benefits not just as a breeder, but also on broiler farms and in processing plants.

"My sincere thanks to the team at Kego - veterinarians Dr Ilias Alexiou, Dr George Kefalas and their technical director Dr Sotiris Papasolomontos - who've worked hard to ensure the Cobb 500 is becoming the most popular breed in Greece again".

The speakers, who also included Patrick van Trijp, technical manger of Cobb Europe, and Dr Matthias Todte, international veterinary consultant, covered a range of topics including breed selection and management in a fast changing environment for the Cobb 500 male and female, and European experiences generally on Salmonella control in broiler breeders.

Two separate technical workshops were targeted at the veterinary and husbandry support staff of the Ioannina Cooperative, Nitsiakos Theodoros AVEE and Ilias Siopis & Son, who between them account for some 60 per cent of broiler breeders in Greece. These were exceptionally well supported, with discussions covering many aspects of broiler breeder production and management at a detailed technical level.

This was the 7th major poultry conference that Kego have organised in the last 10 years in Greece and they are already planning for the 8th.