Arbor Acres Supports CPC School
EGYPT - Arbor Acres, an Aviagen brand, recently participated in an educational poultry event in Hurghada.
Cairo Poultry Company (CPC) - the parent company of the Arbor Acres Egyptian distributor, MPG - held its 11th training school at the Red Sea resort of Hurghada on 22-26 June.

Dr Alla Abdou, course administrator, welcomed 25 attendees selected from MPG's Arbor Acres customers throughout Egypt to a week-long series of lectures on a variety of poultry management topics.

The second day was dedicated solely to Arbor Acres with Stanley Millar (Middle East commercial manager) and Puzant Dakessian (Middle East technical manager) in attendance.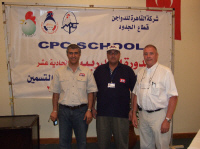 Mr Dakessian, Dr Alla Abdou and Mr Millar (left to right) at the recent CPC poultry training school
Mr Millar spoke to the audience on the growing activities of the Arbor Acres brand throughout the Middle East and African region while Mr Dakessian provided lectures on key poultry management issues.

Commenting on the continued success of the event, Dr Alla Abdou emphasised the important roll the CPC School plays in adding to the education and expertise of young managers who are starting their career in the Egyptian poultry industry.

"Arbor Acres has been active a distinguished supplier of broiler breeder stock for the past 25 years and we always stand ready to support the Egyptian industry and our grandparent partners – MPG," added Mr Millar.

Aviagen says that it remains committed to providing technical support and management advice to distributors and customers locally through regional technical managers and with educational workshops and seminars.