Aviagen Gets to Grips with Key Issues in Turkey
TURKEY - Ross Breeders Anadolu, Aviagen's joint venture in Turkey, recently held a technical seminar in Antalya, Turkey. The seminar covered the key issues that have been raised by Turkish customers over the last few months.
During the two day event, the 65 delegates were given presentations from Ross Breeders Anadolu and Aviagen's regional Ross team on subjects such as egg handling procedures from farm to hatchery; the importance of male management for successful flock performance; identifying leg problems and skeletal disorders; critical broiler management; serologic and bacteriologic monitoring for broiler and PS flocks and ventilation principles for successful broiler performance.

Barbaros Gokceyrek, Technical Operations Manager, Ross Breeders Anadolu said: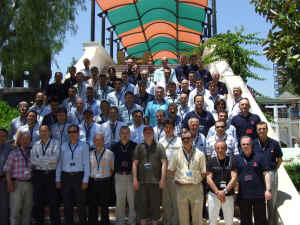 "The seminar went really well and, because the attendees specified the subjects to be covered, the advice they received will enable them to maximise the performance of their Ross stock and ensure that Ross remains the breed of choice in Turkey.
Michael Garden, Regional Technical Manager for Turkey, Middle East and Africa, added: "It is important that we support our customers and this annual seminar is an integral part of this. The seminar helped to enhance customer relationships and provided relevant, up-to-date and proven technical advice.
"The feedback we received was all positive and the customers emphasised that they were very impressed with the invaluable meeting and are already looking forward to future events."