CME: Corn and Soybean Acres
US - CME's Daily Livestock Report for 30th June, 2008.
Cost-weary livestock producers got a bit of good news today with USDA's estimate that 87.327 million acres of corn have been planted and that 78.94 million will be harvested. The planted acres are nearly 1.7 million higher than the average pre-report estimate and CME Group Corn Futures reacted quite predictably to the negative with all 2008-09 crop year contracts losing $0.30/bushel and the deferred contracts falling by $0.22 to $0.285/bushel.
| E-Livestock Volume | 6/30/08 | 6/27/08 | 6/23/08 |
| --- | --- | --- | --- |
| LE (E-Live Cattle): | 11,310 | 8,824 | 7,367 |
| GF (E-Feeder Cattle): | 510 | 414 | 464 |
| HE (E-Lean Hogs): | 14,842 | 11,598 | 13,000 |
This is somewhat an effort to answer "Just what is an "expected acre"? Recall that back in March, USDA's Prospective Plantings report predicted 86 million acres would be planted to corn. But by the time that report was released on March 31, the conditions that prevailed when the survey was done in early March had changed dramatically as corn prices had risen relative to soybean prices. The change was so dramatic that a few analysts were saying we need for Prospective Plantings reports — a call that was decidedly unpopular at USDA from both a resource and "headache" standpoint.

The tendency for corn acres to grow during planting is well documented so most believed that, given good weather, the historical pattern and the higher relative corn price would secure a few more acres to meet growing corn demand. So when did a former intended soybean acre become an intended corn acre? And if there is such a tendency for acres to grow, why has USDA's Crop Progress report NEVER shown more than 100% of intended acres to have been planted to corn?

Whatever the situation, it now appears that the shift to corn acres has overrun the weather problems. But an acre planted is certainly not an acre harvested and USDA presently predicts that only 90.4% of planted corn acres will in fact be harvested. That number is not low by historic standards but this percentage has trended upward for years as less and less corn is cut for silage. This year's number is about 2% below the trend percentage. USDA plans to do more surveys in July to get a better handle on expected harvested acres for both corn and soybeans.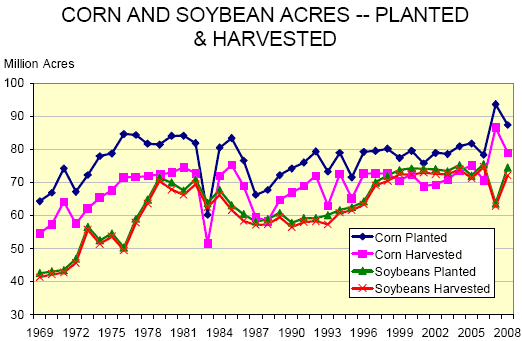 USDA's predicted soybean plantings are 74.533 million acres, slightly higher than the average estimate of 74.257 million acres. But concerns over both harvested acres and today's soybean stocks (higher than expected but still nearly 40% smaller than last year) drove CME Group soybean futures to record highs today –mitigating the good news of lower corn prices for poultry producers and, to a lesser degree, hog producers. Nearby July soybeans closed at $16.05/bu. and hit a record $16.07 1/4 during the session. New crop November beans also set a contract life high for the close.

Below are the charts for USDA's weekly crop condition ratings. Corn gained 1% in the good-excellent categories while soybeans gained 2%. The improvement is welcome but both crops remains well below average and corn conditions remain below the worst year on record.