CME: Poultry Producers Face Prospects of $8 Corn
US - CME's Daily Livestock Report for 30 July 2008.
Good weather conditions have allowed the current corn crop to improve at a much faster pace than previously expected and we have started seeing private forecasts that now have corn yields above the $150 bushel market, maybe as high as $155-56 bushels per acre. Topsoil moisture in much of the corn belt appears to be in great shape and with no significant dry weather patterns expected in the near future, corn prices have been under significant pressure recently. However, the market found some support in the USDA announcement that it would not allow an early release of acres that are currently enrolled in the Conservation Reserve Program (CRP). After the June floods in Iowa and Illinois, USDA was urged to grant an early release of CRP acres in order to mitigate the flooding impact and provide relief for livestock and poultry producers facing prospects of $8 corn, as indicated in futures markets.
| E-Livestock Volume | 30-Jul | 29-Jul | 23-Jul |
| --- | --- | --- | --- |
| LE (E-Live Cattle): | 10,180 | 12,596 | 12,045 |
| GF (E-Feeder Cattle): | 744 | 800 | 856 |
| HE (E-Lean Hogs): | 9,182 | 11,330 | 20,807 |
While high corn prices may have a tremendous negative impact on US meat producers, an early release of CRP acres would have likely brought fourth significant opposition from environmental groups, which see CRP enrolled acres as critical for maintaining wildlife habitat. The recent court ruling in Washington State, which was very critical of USDA's decision to allow haying and grazing of CRP acres for a few months this year, also may have affected the USDA decision. In the end, USDA may have decided that the cost of the early release was much higher than the benefits provided, especially with new corn crop futures down almost $2/bu. from their peak.

The USDA announcement that an early release of CRP acres is not needed given improving corn conditions may have given an early indication that USDA plans to raise its corn production forecast in the August WASDE update. But, keep in mind that plenty of unknowns still remain in the market. The size of the final corn crop has yet to be determined, ethanol demand remains a wild card, soybean/corn stocks are less than plentiful, and export demand remains a significant driver.

There is broad expectation that there still needs to be a significant expansion in corn planted acres next year to keep up with the increase in demand from the energy, feed and export markets. As the attached charts show, only a little more than a fourth of the expiring CRP acres this year will be in the top 5 corn producing states. The USDA decision on CRP acres may have been justified by short term factors but, in the longer run, demand growth continues to set the pace for prices.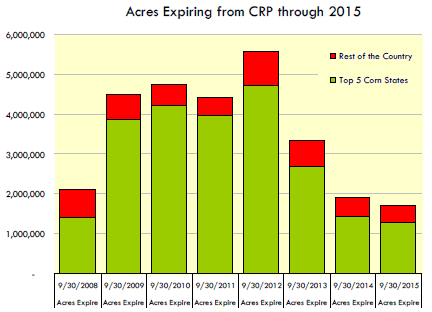 Source: USDA/FSA CRP Acreage Monthly Report. Top 5 corn states - IA,IL,MN, IN, NE