CPC School Supports Results of Hubbard Classic
EGYPT - The 11th CPC Poultry School took place at the Club Azur resort at Hurghada. Many Hubbard customers attended the seminar and during this 6 days event heard presentations on breeding, incubation, management, nutrition, physiology and veterinary issues and also enjoyed camaraderie.
Hubbard speakers were Dr. Eric Bonjour, director of technical and veterinary service, who updated the group on AI and biosecurity; Dr. Costas Constantinou, technical consultant, who spoke on Clostridia-risk control and Alastair Lewin, senior technician, who updated the group on the Hubbard M99 PS male and the improved Hubbard Classic female characteristics and management.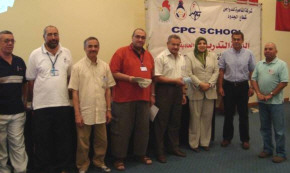 Between the different lectures Dr. Nahed el Ganinney, Hubbard's agent for Egypt, organised a raffle with special Hubbard presents; e.g. watches and nice pens. Hubbard presented a digital camera to the highest placed student and a watch each to the second and third placed student after the exams on the final day.

Hubbard thanks Dr. Nabil Darwish and the organisers for this CPC Poultry School commitment as a continuous effort in improving the education of farm managers and supervisors to enable them to achieve very good results from the Hubbard Classic product.