Dalton Receives Distinguished Poultry Industry Award
US - Don Dalton, retired president of the US Poultry & Egg Association, was honoured by the Poultry Science Association as the recipient of the Merial Distinguished Poultry Industry Award.
The award was sponsored by Merial Select, and presented by Jerry Chapman. The presentation was made during PSA's 2008 annual meeting on 20-23 July at Niagara Falls, Canada.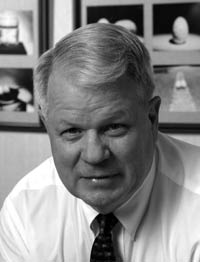 Don Dalton, recipient of the Merial Distinguished Poultry Industry Award
Don Dalton has been a leader in the poultry industry for over 40 years. He progressively served as ingredient buyer, director of purchasing, director of planning, director of poultry processing, operations manager, complex manager, vice president and general manager of the foods division, and senior vice president of planning for Valmac Industries. He also served on the board of directors and as chairman of what was then Southeastern Poultry & Egg Association, now the U.S. Poultry & Egg Association.

Mr Dalton started at USPOULTRY as vice president of government relations and trade show in 1989, and was named association president in 1992. During his term as president, he oversaw the continued growth of the association's educational programs and the International Poultry Expo. Both the Harold E. Ford Foundation, which supports poultry science programs, and the Poultry Protein & Fat Council, which aids poultry renderers, were formed. Other expansion included the addition of the communications, environmental and food safety departments. USPOULTRY also gained a wider communications reach with the development of the first poultry web site and The Poultry Wire e-news alert. Under his direction, support for eatchicken.com and other poultry association web sites was established.

Throughout the years, Mr Dalton has served the industry as a director of the Animal Agriculture Alliance and the International HACCP Alliance, as well as serving on many committees and commissions.

Mr Dalton was introduced at the award ceremony by fellow retired USPOULTRY colleague, Larry Brown.

"Most of Don Dalton's working life reflects leadership and service to the poultry industry," Mr Brown said.

"He was a leader during his career in the industry, and during his tenure at USPOULTRY. He continued and enhanced our programs serving the poultry industry."

Don Dalton retired from USPOULTRY in December 2007.