International Egg and Poultry Review
US - By the USDA's Agricultural Marketing Service - This is a weekly report looking at international developments concerning the poultry industry.
Update on HighlyPathogenic Avian Influenza
As of June24,2008 a total of 22 countries have reported outbreaks of H5N1 highly pathogenic avian influenza(HPAI)in domestic poultry and wild life in 2008.

Countries reporting cases of HPAI in domestic poultry in June include Bangladesh, India, China, the United Kingdom and Pakistan.


Highly Pathogenic Avian Influenzain Domestic Poultry

The UK had submitted its final report in May and Pakistan in June, after a prolonged period with no new outbreaks.The newoutbreak in the UK is the H7N7 subtype, all others are H5N1.
Hong Kong's domestic flocks have not tested positive for HPAI, but several birds tested positive at local wet markets in June. In order to protect public health and reduce the risk of avian influenza,the HongKong Special Adminstrative Region government decided to ban overnight stocking of live poultry at retail shops,including public market stalls and fresh markets. Poultry will have to be sold the day they are imported, and any left unsold will have to be slaughtered.
Effective July 2, 2008 live poultry will not be allowed at retail outlets between the hours of 8:00 PM and 5:00 AM. The facilities must be thoroughly cleaned and disinfected overnight. Offender scan have their permission revoked and be fined 50,000 Hong Kong dollars(about6,410U.S.dollars) and jailed six months.
At a recent international medical conference, an official with the United Nations Food and Agriculture Organization noted the peak in outbreaks is over,but there are still many small outbreaks. The virus seems to circulate in chicken production systems near areas where rice production and duck husbandry coincide.
Source: World Organization for Animal Health; news.gov.hk; newswires
Japanese Powdered Egg Imports (in metric tons)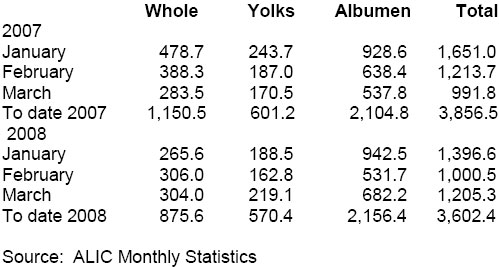 U. S. Exportsto Select Countries: Frozen Whole Ducks, Geese and Guinea Fowl in MT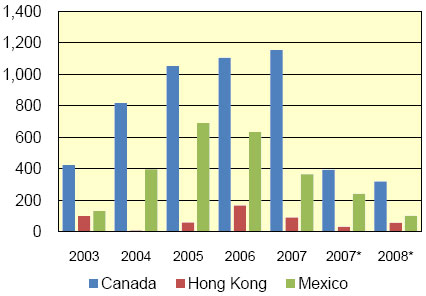 U. S. Exportsto Select Countries: Frozen Cuts Ducks, Geese and Guinea Fowl in MT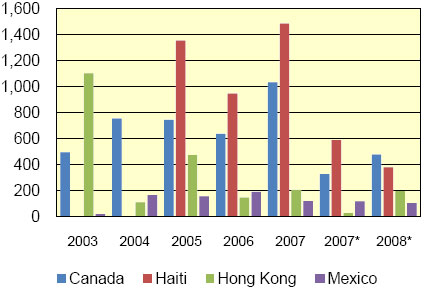 U. S. World Exports: Frozen Ducks, Geese and Guinea Fowl in MT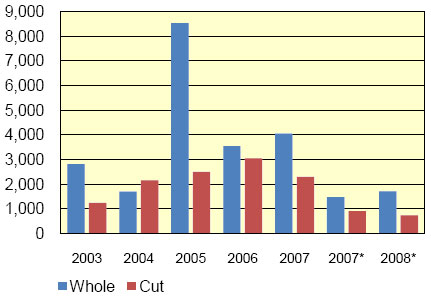 *January-April only
Source: Department of Commerce, U.S. Census Bureau, Foreign Trade Statistics
Further Reading