International Egg and Poultry Review
US - By the USDA's Agricultural Marketing Service - This is a weekly report looking at international developments in the poultry industry.
Based on trendlines, broiler chicks placed are down and RTC pounds are up. US broiler meat production was up 10.2% in April 2008, due to an extra day of slaughter, and is forecast to be 9.38 billion pounds in the second quarter, 9.2 billion in the third, and 9.18 billion in the fourth quarter 2008.


USDA NASS Broiler Chicks Placed ('000 head) and Ready-to-Cook (RTC) Broiler Meat Produced ('000 pounds)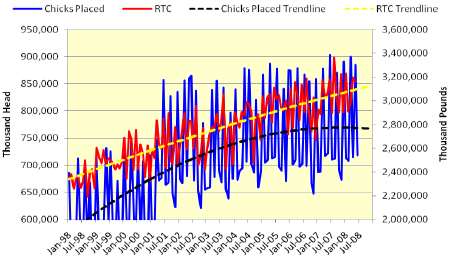 Note: According to USDA NASS, the average hatchability for chickens hatched is about 84%. NASS also reported the ante-mortem condemnation rate for young chickens to be 0.29% and the post-mortem condemnation rate to be 1.0% for May of 2008. The ready-to-cook (RTC) broiler meat data used in the above graph is total young broiler meat both chilled and frozen. All broiler hatch data is reported on a weekly basis, whereas ready-to-cook broiler meat is reported monthly. For comparison purposes the broiler hatch figures were converted to monthly figures. Due to the inflexibility of the data, we assumed a grow-out of 8 weeks when in reality it is between 6-8 weeks depending on utility. In addition, the graph represents a real time comparison in which chicks placed are compared with RTC volumes at the corresponding time of processing.
Source: USDA NASS
US Leg Quarter (LQ) Cold Storage Holdings ('000 Pounds) Compared with USDA FAS Export Leg Quarter Prices (US $/Pound)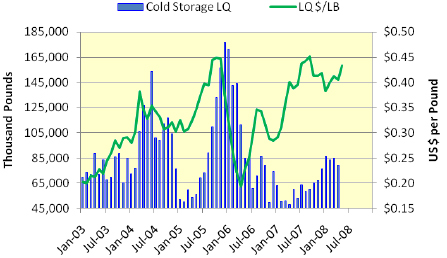 Note: Data from 2003-2007 is for January through December; data for 2008 is from January through June. Source: USDA NASS/Department of Commerce, US Census Bureau, Foreign Trade Statistics/USDA FAS
US leg quarter exports totaled 190,463 MT in May 2008, +58.6% from 2007, with 92,695 MT to Russia, 8,428 MT China, and 7,343 MT Mexico. From January to May 2008 US leg quarter exports were 784,326 MT, +24.5% from 2007, with 356,435 MT to Russia (+39.4%), 48,334 MT China (+181.9%), and 32,727 MT Mexico (+41.5%). Total US broiler meat exports in May 2008 hit 328,743 MT, +41.7% from 2007, with 97,565 MT Russia, 66,794 MT China, and 23,773 MT Mexico. US total broiler meat exports in the first 5 months of 2008 were 1,413,952 MT, +27% from 2007, with 377,712 MT Russia (+41.7%), 311,305 MT China (+27.8%), and 109,925 MT Mexico (+30.7%). Based on the charts, the weakening US dollar against the Russian Ruble and Chinese Yuan has increased exports of US broiler meat steadily and significantly respectively. However the value of the US dollar has remained generally constant and slightly stronger than the Mexican Peso over the past 5 years. Interestingly US broiler meat exports to Mexico were declining, but have begun to climb significantly in 2008.
Source: USDA ERS/USDA FAS/News Wires
US Dollar Value against Russian Ruble with US Leg Quarter (LQ) and Total Chicken Exports in Metric Tons (MT)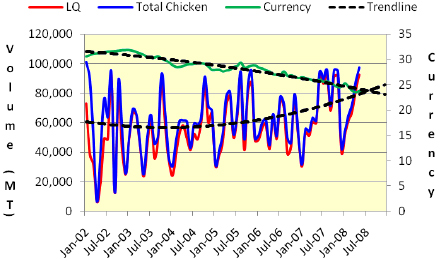 US Dollar Value against Chinese Yuan with US Leg Quarter (LQ) and Total Chicken Exports in Metric Tons (MT)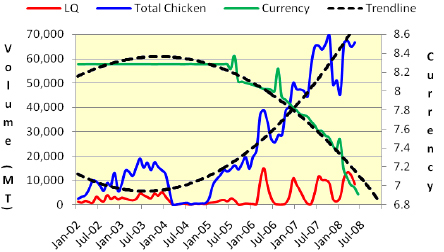 US Dollar Value against Mexican Peso with US Leg Quarter (LQ) and Total Chicken Exports in Metric Tons (MT)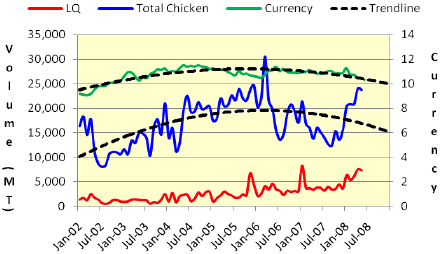 Note: The average June 2008 currency exchange of 1 USD = 23.6391 Russian Ruble. The average June 2008 currency of 1 USD = 6.9113 Chinese Yuan. The average June 2008 currency exchange of 1 USD = 10.3366 Mexican Pesos. Source: Department of Commerce, US Census Bureau, Foreign Trade Statistics/USDA FAS/Oanda FX Trade
Further Reading