Aviagen Begins Construction of Europe's Largest PS Hatchery
GERMANY - As part of its ongoing investment programme, the Aviagen Group have announced the building of a new PS hatchery in Hilbersdorf, near Dresden, in Eastern Germany.
The new hatchery will be the largest in Europe and have a capacity of 1,000,000 eggs per week. The new facility will enhance Aviagen's already unrivalled European supply network, which provides customers with top-class Parent Stock from hatcheries in the UK, the Netherlands, Denmark, France and Hungary, as well as via key European distributors based in Northern Ireland, Spain, France, Sweden and Finland.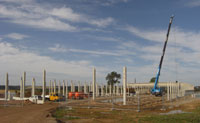 Construction on the site of Aviagen's new German hatchery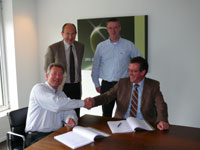 (left to right) Tom Dewaele, Manager - Global Sales, Petersime, Michel De Clercq, Managing Director, Petersime, Leon Vogels, Hatchery Project Manager, Ross EPI and Patrick Claeys, General Manager, Ross EPI sign the contract purchasing Petersime equipment for the hatchery
The construction of the hatchery falls under the management of Ross EPI, Aviagen's Central European operation, who have been working diligently with suppliers, architects and the German authorities to ensure that the hatchery contains the most state-of-the-art technology and meets Aviagen's high standards of biosecurity.

Construction began in June and the hatchery is expected to be operational by January 2009. The location of the hatchery is a continuation of Aviagen's policy of establishing production facilities close to customer bases, as it is situated within minutes of a major motorway network, less than 100 km away from the Czech and Polish borders and within 70 km of two major airports, Dresden and Leipzig.

Patrick Claeys, General Manager of Ross EPI commented:

"Hilbersdorf hatchery will be a huge asset to Aviagen and our customers. Being located closer to customers means that chicks will spend less time in transit, leading to improvements in chick quality, welfare and uniformity. Customers will also benefit from the added flexibility and increased capacity that the new hatchery offers, providing even more security of supply to customers in Europe and throughout the world."

Val Mendeleev, Aviagen's President of European Operations added:

"This new hatchery will be an important link in our European supply network. Demand for Aviagen products continues to increase and this facility will allow us to meet this, as well as further enhancing the quality of products we provide to our customers.

We have invested considerably in our production facilities in Europe, spending almost 20 million euros on the Hilbersdorf hatchery and the refurbishment of the hatcheries in the UK, the Netherlands and Denmark. We are committed to providing our European customers with the best possible products and services."