Aviagen Strengthens European Customer Support Team
SCOTLAND - Aviagen has announced the appointment of Richard Mackie, who is currently Head of UK GP Operations, to the newly-created role of Head of Customer Operations.
In this role, Richard will be responsible for all commercial activities in Scandinavia, Finland, France, Greece, Spain and Portugal. He will work closely with Aviagen's distributors and customers in these countries to ensure the continued success of Aviagen products in these markets. Richard will liaise with Alan Goodwin, International Sales Manager, to ensure a smooth handover as Alan prepares for his retirement in early 2009.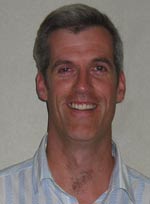 Richard Mackie, new Head of Customer Operations
In addition, this role will include responsibility for the UK-based Planning and Customer Services departments.

Richard has a degree in Zoology and an MSc in Poultry Science and has worked in the poultry industry for over 20 years, the majority of these in live production. He joined Aviagen in 1999 and has fulfilled a number of production roles. His production experience extends across Europe, having spent time at Aviagen's facilities in Hungary, the Netherlands and France. Richard is a well-known face to many of Aviagen's European customers, having regularly contributed to customer meetings, seminars and inward visits in recent years, as well as providing technical service in Italy.

Richard will bring improved focus and coordination to Aviagen's customer-facing activities and his in-depth knowledge and experience of production will help to ensure strong communication links right across the business.

Val Mendeleev, President, European Operations commented, "I am very confident that Richard will be a huge asset to ourselves and our customers. Richard has earned a reputation as someone with a great depth of technical knowledge and expertise and he will play an important role in the continuing success of Aviagen products in Europe."

Richard Mackie added, "I am looking forward immensely to this new challenge and I hope to be able to utilise the knowledge and experience I have gained in my years in the industry to add value to our customers' and Aviagen's operations."