CME: Corn, Soybean Meal and Soybean Futures
US - CME's Daily Livestock Report for 6 August 2008.
The sell-off of corn, soybean meal and soybean futures contracts since 1 July has been truly remarkable and is causing some observers to question whether there ever was a price crisis for grain purchasers and a profit crisis for livestock and poultry producers.
| E-Livestock Volume | 8/6/08 | 8/5/08 | 7/30/08 |
| --- | --- | --- | --- |
| LE (E-Live Cattle): | 23,959 | 14,527 | 10,180 |
| GF (E-Feeder Cattle): | 1,414 | 1,169 | 744 |
| HE (E-Lean Hogs): | 18,089 | 17,413 | 9,185 |
Much of that questioning is simply due to the magnitude of the decline. December corn futures closed today at $5.27 compared to $7.88 at their peak on 3 July. That is a decline of $2.61 per bushel or 33% in just over a month. Soybean meal futures have fallen from $429 to $326.90 over the same time period. That decline amounts to 24%.

As can be seen from the December corn chart below, technical support of several types keep being broken by the sell-off. Today's decline covered a gap at $5.38 back in March. The next objective on this chart would be a 75% retracement of the leg up dating back to September. That retracement would be fulfilled at about $4.88. That price is very close to the long-term support off lows in September 2006 and September 2007. Should that support be penetrated, the next support would be of several lows near $3.75 in the first half of 2007.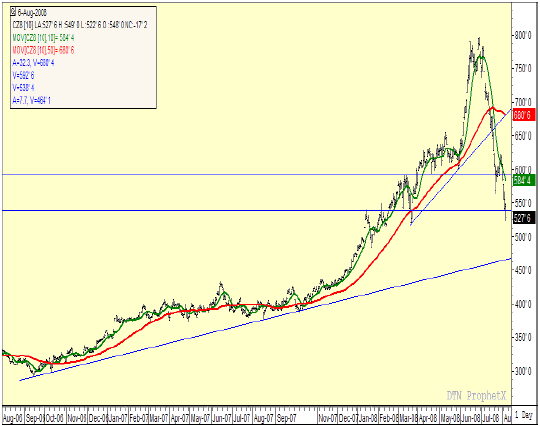 The numbers are different but the talking points are almost identical for the soybean meal chart. The main difference is that soybean meal has not yet covered the chart gap at $306 in March. The possibility of sub-$300 meal is very real.

The question is "Why the huge change?" Improving crop conditions are the obvious answer. Monday's USDA Crop Progress report showed the percentage of corn acres rated good or excellent steady with last week at 66% and that 63% (up 1% from last week) of soybean acres were in those two categories that are considered key to achieving a high national yield level. The real story there is that the numbers are steady or rising at this time of year. Most years see some degree of heat and/or dryness driving conditions lower.

In addition, Reuters published a story today that the CME Group had forced a commodity fund to liquate its positions in corn and soybeans. The Reuters article went on to say that "The CME Group said it had not forced any customers to liquidate positions on Wednesday." All of Reuters information apparently came from CBOT corn and soybean traders. That doesn't mean they are wrong but there is no hard info that a fund was indeed forced to liquidate a reported 39,000 soybean and 40,000 corn contracts.

The declines in feed ingredient futures have taken nearly $80 per ton off the projected cost of hog feed next summer.

Nearby NYMEX crude oil futures fell another $0.59 per barrel today to settle at $118.58. That is $27.20 per barrel lower than the all-time high of $145.78 on 14 July.

This is beginning to look like more than a market correction as the psychology of this market has shifted rather dramatically.