Customers Benefit in Era of High Grain Prices
UK - Dr Terry Wing, senior geneticist, Cobb-Vantress Inc, reviews more than 25 years' work on improving broiler performance.
Early in 1981, efforts began to develop a method for deriving reliable individual bird performance from a large number of birds and to focus on efficiency. The hiring of a recently qualified graduate, who had completed his thesis in breeding layers for efficient egg production, was the start of the quest to design facilities and establish protocols using similar concepts and procedures.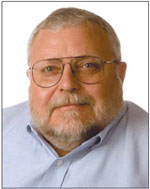 Dr Terry Wing
Progress began on feed efficiency testing and in developing statistical procedures. Efficient growth became the selection driver and feed conversion ratio was the trait of greatest importance. Feed conversion traits showed moderate to high heritabilities and so were predicted to respond to genetic selection year-on-year.

Early approval followed for a state-of-the-art test facility with controlled environment encompassing temperature, airflow, light intensity and several other factors influential on feed conversion.

This provided accurate control of the environment and enabled the birds to truly compete against each other and expose individual differences due to genetics rather than environment. An independent statistician approved the methodology.

Testing started on males, then on females in a full pedigree program, including all lines under development for improved or new Cobb products. Importation of the Cobb 500 from the UK, and full support from the new joint venture between Tyson and Upjohn, coincided with the evolution of the new testing procedure.

Measurable improvements were seen in the field where the reduction in feed conversion was widely reported by customers and led to the initial commitment by Tyson to purchase one million Cobb 500 parent stock, directly as a result of the improved feed conversion demonstrated. Other companies soon started to request supply and the Cobb 500 went fully commercial in the US with the consolidation of its market presence in the early 1990's, based on recognition of the advantages in the broiler feed conversion and yield by a considerable segment of the industry.

Testing identified individual birds with exceptional feed efficiency and muscle deposition. Appetite remained relatively unchanged during the feed conversion testing period and feed conversion improved as a function of bird efficiency. The focus was on birds that did the most with the feed consumed; by holding feed intake at a constant level, along with the host of environmental factors, individual bird growth rate and yield differences were identified.

As the complete procedure was fine tuned, a balanced program highlighting a number of traits including bird health, fertility and skeletal strength, created the breed with the lowest cost per kilogram or pound of liveweight produced - a competitive advantage and valuable sustainable benefit for customers.

The testing program also paralleled the development of computer programs like BLUP (Best Linear Unbiased Predictor), enabling not only multiple traits to be monitored but also the genetic performance of full siblings, half siblings, cousins, aunts, uncles and parents to provide better predictability of performance. This enhanced the accuracy of bird selection and maximized the rate of gain from the program.

Subsequently, welfare traits have been incorporated into current methods to meet customer needs in the market. Breeding values derived from the testing allow better predictive values to be calculated with dependable improvements determined for over the next five to ten years for Cobb products.

Continued refinement of testing has not only improved selection performance, rate of progress and predictive values for future parent stock, it is also anticipated to mesh well with new technology like Marker Assisted Breeding derived from use of biotechnology methods identifying particular gene sequences. These can be related to measurable performance improvements, greatly increasing potential gains from the program.

Cobb products lead the breeding industry in achieving the most efficient and lowest cost chicken meat, the important source of protein globally for human consumption.

The significant investment in facilities associated with the ground-breaking decision to move to individual bird testing and ongoing refinement of statistical procedures have all contributed to the advantages shared by customers and the industry worldwide, especially appreciated in the current climate of continuing high grain prices.