Embrex Award for Dr Velleman
GLOBAL - Sandra G. Velleman of Ohio State University has received the 2008 Embrex Fundamental Science Award from the Poultry Science Association.
Ohio State University scientist, Sandra G. Velleman, received the award, which recognises outstanding achievement in a basic discipline, such as genetics, genomics, or molecular, cellular or developmental biology.

Each year, the award is given to a Poultry Science Association (PSA) member who has made sustained, high-quality contributions to fundamental science that advances the field of poultry science.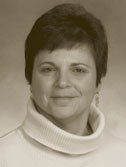 Dr Sandra G. Velleman
Dr Velleman studied the molecular and cellular mechanisms regulating muscle growth in chickens and turkeys with an emphasis on extracellular matrix gene expression. The extracellular matrix, connective tissues and fibres located outside of and around cells, gives cells structural support and regulates cell gene expression critical in maintaining tissue function.

She has investigated the regulation of muscle growth and structure by the differential expression of extracellular matrix genes; the cellular mechanisms by which extracellular matrix genes involved in growth factor signaling affect skeletal-muscle growth; the role of the extracellular matrix in meat tenderness; and the effect of genetic selection of poultry for increased growth rate on muscle formation.

Dr Velleman has written 86 full-length peer-reviewed scientific publications; has received grants from the National Institutes of Health (NIH), the USDA and the poultry industry; and received the National Turkey Federation Research Award in 2006 and the PSA Research Award in 1998.