International Egg and Poultry Review
US - By the USDA's Agricultural Marketing Service. This is a weekly report looking at international developments concerning the poultry industry. This report focuses on the egg and poultry meat situation in Venezuela.
Venezuela Poultry and Egg Situation
Broiler production in Venezuela is expected to reach 860,000 metric tons in 2008, up 5% from the previous year, but still well below the 893,000 metric tons produced in 2002, the year before price controls were implemented.

Venezuela's poultry industry is strong, organized, vertically integrated and well managed. These attributes have allowed the industry to increase production even with government price controls that do not allow producers to raise prices along with the cost of production. Domestic producers also have to compete with government imports of Brazilian poultry.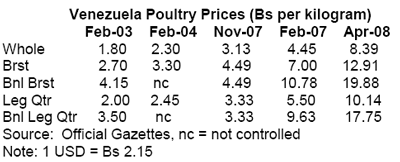 Poultry prices are significantly lower than other meats. Retail prices for poultry have been set under a government control policy since 2003. Whole poultry and cuts are sold at a fixed price established by the Bolivarian Republic of Venezuela. The poultry industry continues to lobby government authorities to ultimately remove poultry and products from the list of price-controlled items.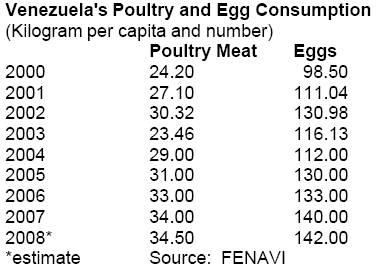 Only the government is allowed to import poultry, which it then sells to the private retail sector and to the government food distribution network. Government imports are not subject to tariffs or customs charges. The government has set up grocery stores through a state-run company called MERCAL.

Mission MERCAL stores and cooperatives are mostly located in poor areas. Poultry products offered through the government's distribution network are subsidized and cheaper than current controlled prices. The poultry industry wants the government to import less poultry and insists domestic production is capable of supplying the demand. Venezuela's poultry industry says it can supply 100% of demand, but can't demonstrate this as long as imports continue.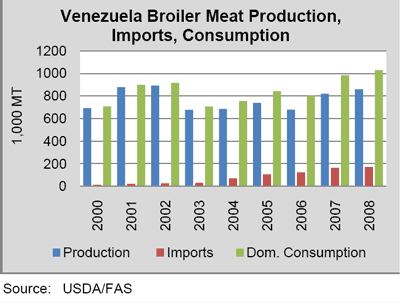 In early August, the Bolivarian Government decided to temporarily suspend issuing import licenses for beef, milk, cheese and chicken as a measure to guarantee a market for domestic production of these items. This suspension applies only to the private sector, not to government entities. The import permits for chicken are restricted in order to guarantee the market for 12,000mt of domestically produced frozen chicken. However, the Government will continue importing poultry for MERCAL.
Further Reading