International Egg and Poultry Review
US - By the USDA's Agricultural Marketing Service. This is a weekly report looking at international developments concerning the poultry industry. This week's report focuses on the poultry situation and outlook in Russia.
Russia Poultry Situation and Outlook
Russia's poultry industry is expected to continue its rapid rate of growth and reach 2.5 million metric tons (MMT) by 2012. Broiler production estimates for 2007 are 1.35 MMT and 1.48 MMT for 2008. The FAPRI 2008 Agricultural Outlook forecast Russia's broiler production to total1.53 MMT by 2010 and 1.78 MMT by 2017.

Turkey production rose from 9,000 MT in 2002 to 25,000 MT in 2007 and official estimates for 2008 are 30,000 MT, although recent increases could push production to 40,000 MT in 2008. Retail prices for turkey are 40 to 70% higher than broiler meat and profits are up to 10% higher. Producers are marketing turkey as a healthier, more affordable alternative to red meat.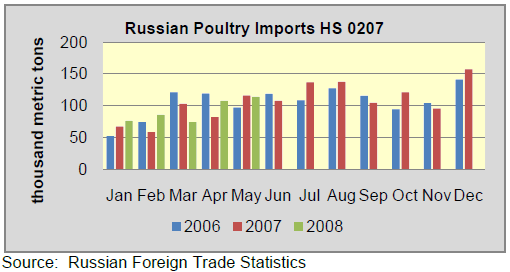 Poultry imports are likely to decrease as domestic production expands. Russia is said to be considering plans to raise the tariff on poultry imports to 90% to protect domestic producers. The current duty is 60% but no less than .48 Euros per kg, up from 50% but not less than 0.4 Euros per kg prior to February 19, 2008.

Recently, U.S. and Russian poultry organizations agreed to a reduction in the tariff quotas from 931.5 MMT to 750 MMT in 2009 in exchange for continued access to the Russian market. The quota could be decreased to 630 MMT 2010, 550 MMT in 2011 and 500 MMT in 2012. The Russian Government's official quota changes could be made at the end of the 2008 or early 2009.

On June 2, 2008, the head of the Federal Service for Consumer Rights and Human Well-Being (Rospotrebnadzor) signed Resolution # 33, effective January 1, 20089, states when handling poultry carcasses to refrain from using water-based solutions containing chlorine in amounts exceeding the requirements set for drinking water. In addition, during thawing take measures to prevent the accumulation of liquid weighing over 4% of the product weight.

Resolution # 30, signed on June 7, 2008, prohibits the use of frozen poultry meat for manufacturing baby food and specialized food products for pregnant and nursing women, effective January 1, 2010, and will prohibit the use of frozen poultry meat for manufacturing into any type of food product effective January 1, 2011. Currently all imported poultry meat is frozen and once Resolution #30 takes effect, it could decrease poultry imports by as much as 20%.
Source: USDA/FAS, news wires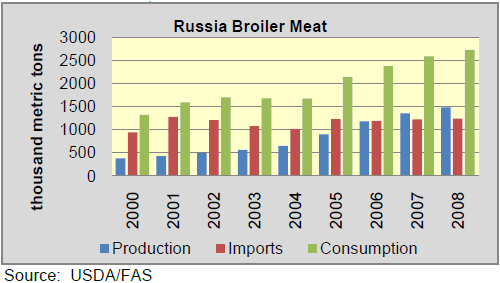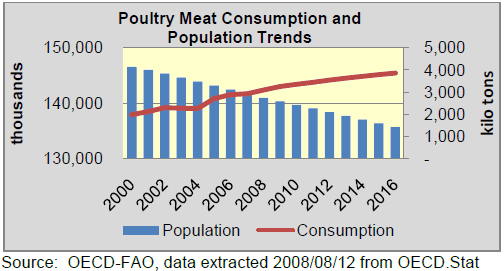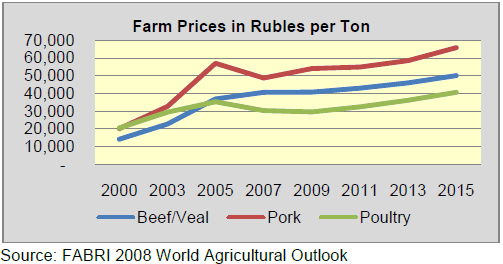 Further Reading