Big Dutchman Guests Donate Generously
GERMANY - Sharing generously with others: many guests that were invited to the anniversary celebrations of the double anniversary of the housing and feeding equipment supplier Big Dutchman in Vechta followed this motto and gave generous donations. In the end, the special donations account amounted to a total of almost €70,000.
At the beginning of July, Big Dutchman celebrated the founding of the company in the USA 70 years ago as well as the founding of the German part of the company 50 years ago in Calveslage with staff, partners, friends and local celebrities. The company management asked for donations for charity organisations who work in the Vechta region instead of individual gifts and thus collected an impressive sum.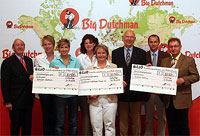 From left to right: Josef Meerpohl (chairman of the supervisory board of Big Dutchman AG), Eva Rilling and Petra Pekeler (Aphasie-Zentrum), Marianne Schwill and Waltraud von Laer (chairwoman Sozialdienst katholischer Frauen e.V., Vechta), Hermann Rauber (deputy chairman Andreas-Stiftung), Dirk Meerpohl (supervisory board Big Dutchman AG) and Matthias Warnking (managing director Andreas-Stiftung)
"We are overwhelmed by the generosity of our guests", said senior partner Josef Meerpohl when the donations were handed over. "Of course, we are well acquainted with the business partners, friends and supporters of our company but we never imagined that such a result would be possible" and Mr Meerpohl added "I cannot think of a better birthday surprise."

Given the generosity of the anniversary guests, the company management decided to top up the sum. €33,500 each were donated to the Andreas-Stiftung, the Sozialdienst Katholischer Frauen e.V. (SkF) as well as the Aphasie-Zentrum of the Josef Bergmann GmbH in Langförden. While the Andreas-Stiftung will use their share of the donations to increase the support and integration of disabled people in the Vechta region, the Sozialdienst takes care of women and families in difficult situations. The Aphasie-Zentrum Langförden helps people improve their quality of life following brain damage or strokes.

"I am positive that the donations were given into the right hands", emphasized Josef Meerpohl when the donations where handed over. The generosity of the donators is also a sign of the importance of the work that is carried out by the three organizations. "I hope that you understand this as a signal to encourage you to keep up the support of people who are not quite as fortunate as many of us" he emphasized and wished the recipients for their charitable work "a lucky hand and God's blessing".