CME: August Yield and Production Estimates
US - CME's Daily Livestock Report for 10 September 2008.
Please follow the link below for information regarding CME Group's upcoming webinar on Country-of- Origin Labeling. The webinar is September 24, 2:00—3:00 p.m. CT and you can register now!

USDA's monthly Crop Production and World Agricultural Supply and Demand Estimates (WASDE) will be released Friday morning at 8:30 and, to say the least, there is a high degree of interest in the reports. Most market observers saw the August yield and production estimates as particularly "preliminary" this year because of the late planting season and the very immature crop in early August. Therefore, even USDA's best efforts at yields based on actual measurements such as ear length and kernel row counts were probably not as useful or accurate as they normally are in August. One observer stated "This year's August report was a normal July report and the September report will be the normal August." We can't argue much.

The key numbers from DowJones' pre-report survey of grain market analysts appear in the table below. On average, analysts look for a reduction from USDA"s August yield estimates for both corn and soybeans. There are plenty of optimists for corn, though, with all but 2 of 16 analysts predicting a higher corn yield this year than was seen in 2007. Only one analyst expects this year's soybean yield to be higher than that of 2007. The massive shift of acres from corn to soybeans would explain a good portion of those year-to-year changes.

The average corn crop estimate is 12.154 billion bushels, 250 million lower than USDA's August estimate and 920 million lower than last year's record crop. Should that crop be realized and usage remain the same as USDA predicted in the August report, 2008-09 carryout stocks would fall to 1.001 billion bushels, roughly 50% lower than this year's carryout. The year-end stocks/use ratio would be 7.9%, the second lowest ever and 0.3% lower than the S/U ratio in the August WASDE, when USDA forecast the national weighted average farm price for the coming crop year to be $5.40/bushel.

The average estimate for the soybean crop is 2.951 billion bushels, 366 million more than last year but just 22 million less than the August USDA estimate. Should usage stay the same as in the August WASDE, this reduction would put the U.S. stocks/use ratio at the end of the 2007-2008 crop year at 3.9%, its lowest level ever and 0.6% lower than the August estimate. USDA's forecast price in August was $12.25/bu.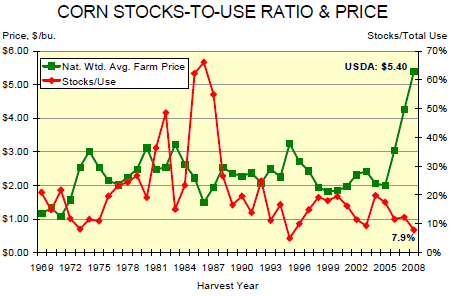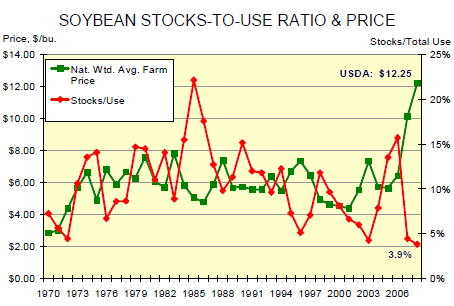 Further Reading