CME: US Broiler Sector in the Limelight
US - CME's Daily Livestock Report for 4 September 2008.
The trials and travails of the U.S. broiler industry are back in the limelight after Tyson Foods announced its intention to sell 20 million shares of Class A common stock and $450 million of convertible senior notes that mature in 2013. An entity controlled by company founder Don Tyson will buy 3 million shares of the stock offering. The proceeds will be used to repay debt and "other general corporate purposes such as acquisitions, strategic investments and initiatives to grow the company's business."

Tyson, like other chicken companies, has taken a beating over the past 2 years as feed costs have risen. Its stock traded near $24/share in July 2007 and closed at $13.88 on Thursday, down $1.30 from Wednesday. Rumors have flown in the past few months that the company was shopping its beef and pork divisions and seeking to return to its core business in broilers. The beef and pork divisions, of course, were formerly IBP. Neither of them could be easily sold to existing players in those sectors unless the buyer was comparatively small. The pork business has generated a high proportion of Tyson's profits over the past two years. It seems unlikely to us that Tyson would sell new shares of stock and then turn around and divest two major parts of its current business, so yesterday's announcement may well mean that any sale of the former IBP assets is now on the back burner.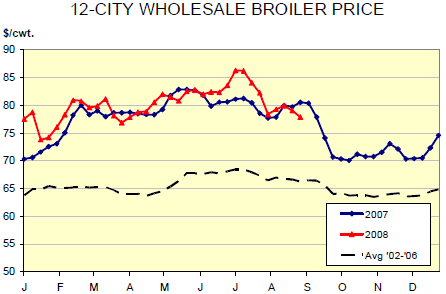 Chicken prices have been strong for most of 2008, reaching record highs in July. The main contributor to that record has been exceptionally strong leg quarter prices which have been above $0.50 per pound since early July. That price is roughly $0.05 higher than last year and $0.20 to $0.24 per pound higher than the 2002-2006 average. Boneless/skinless breast prices have been $0.20 to $0.25 per pound LOWER during that time period, meaning that leg quarters have been carrying total bird value. And the source of leg quarter strength is undoubtedly exports. Last week's news out of Russia could well have a decidedly negative impact on leg quarter values. The stronger U.S. dollar will not help the situation either.

Chicken producers have done a pretty good job of managing supplies to keep wholesale prices high this year. Broiler slaughter has been very near year-ago levels, on average, since mid-May and year-to-date slaughter is now only 2.5% higher than last year after being as much as 5% higher in February and 4% higher as late as April. Broiler production, though, has run farther ahead of last year's pace due to higher average bird weights. That increase has been driven by a higher proportion of boning birds and a trend toward VERY LARGE boning birds weighing 8 pounds or more. Broiler production is still 4.6% ahead of 2007, year-to-date.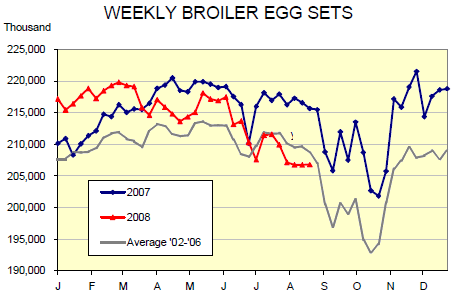 But change is coming. As much as broiler companies have successfully used a "Damn the torpedoes! 4% more broilers!" approach in the past, they see the writing on the wall with high feed prices and little hope of higher corn availability in 2008-2009. Broiler egg sets have dropped sharply since July. After being 0.35% larger, year-to-date, at the end of June. Weekly egg sets have fallen short of 2007 levels by an averageo of 3.85% since then. Chick placements have been 3.25% lower than last year since July 12 so we should see some marked reduction in broiler slaughter in coming weeks.