CobbSasso150 to Meet Changing Consumer Demand
FRANCE - A new breed for the developing French market for certified and 'intermediate growth' chicken — the CobbSasso150 — is being introduced at the SPACE 08 exhibition, Rennes, on 9-12 September.
This is the first product from the new partnership between Cobb and the French breeder Sasso, a world leader in coloured chickens.

The CobbSasso150 is a cross between a slow growing, coloured female and a white male, with around ten per cent of the broilers having brown feathers and providing distinctive colour markings.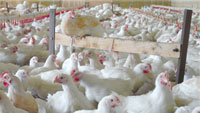 "The increase in the retail price of chicken following the steep rise in feed costs is having an impact on buying habits," says Louis Perrault, executive director of Sasso. "There is a growing demand for chickens reared to 49 to 56 days which is where we are targeting the CobbSasso150.

"The collaboration with Cobb enables us to develop breeds to suit a wider spectrum of consumer demand."

CobbSasso150 parents are capable of producing 216 hatching eggs / 182 chicks to 66 weeks. Commercial trials growing broilers to ages between 44 and 56 days have shown very competitive feed conversion and growth — with livabilities in excess of 98%.

"We believe the bird's traditionally robust nature, combined with its advantage in feed conversion and carcase uniformity over competitive breeds, will make the CobbSasso150 an attractive choice for the new market sector," adds Louis Perrault.