Feed Costs and Labelling Loopholes Hurt Producers
IRELAND - The financial troubles of Cappoquin Chickens have highlighted that rising feed costs and labelling loopholes are causing more widespread difficulties for the poultry industry.
Following reports that Cappoquin Chicken has gone into liquidation, Fine Gael [Ireland's main opposition party] Agriculture spokesman, Michael Creed TD, has said spiralling costs, particularly feed costs and inadequate food labelling laws were significant contributory factors.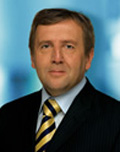 Michael Creed, Fine Gael agriculture spokesman
Deputy Creed said the poultry industry is hurting and agri-sector jobs are under threat.

"Reports of the appointment of a liquidator to Cappoquin Chickens are the culmination of fears that have been mounting for some time. Up to 250 people employed either full time or as seasonal workers will be devastated by the news, as will the 50 producers dependent on the company's survival.

"The Fianna Fáil Government has failed to heed warnings on the impact of rising feed costs on the poultry sector and it is now clear just how hard these costs are hitting agri-business. The latest Central Statistics Office figures showed feed costs up 21.1% on last year. This is an own goal from the Government whose daft policy on the importation of GM feed is estimated to be costing the industry up to €160 million a year.

"The Cappoquin Chickens blow follows the closures of Grove Turkeys and Castlemahon Chickens. It's painfully clear that the Government must act to save the industry.

"We are also seeing the impact of quality Irish product being undermined by loopholes in our labelling laws. The 'substantial transformation' loophole allows produce which has had minimal processing in Ireland, like the addition of breadcrumbs, to be passed off as Irish. Coupled with misleading labelling this means Irish produce and cheap imports are not competing on a level playing field.

"Fine Gael's campaign on labelling laws has fallen on deaf ears in Government so far but the prospective liquidation of Cappoquin Chickens has to be a wake-up call. As well as the closure of the 'substantial transformation' loophole and the tightening and strict enforcement of existing labelling laws, Fine Gael wants to see the introduction of a 'Green Ireland' label. This single, recognisable brand would help Ireland capitalise in overseas and domestic markets on its reputation as a green, healthy, quality food producer and help secure a premium price for Irish produce and Irish farmers."