Gary Parsons 'Eggs Factor' Winner of the South!
UK - Gary Parsons, Head Chef at the Queen Elizabeth Conference Centre in Westminster, was on cracking form, beating the opposition to be crowned Eggs Factor winner of the South at a cook-off in Eastbourne.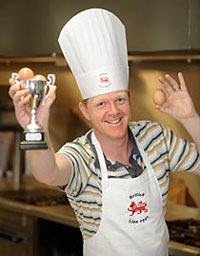 A dozen would-be egg chefs battled it out in the Eggs Factor regional cook-off held at The University of Brighton on 3 September.

The competition to find the new 'Face of Eggs' received more than 500 entries which have been narrowed down to 12 finalists in each region who will compete across UK kitchens throughout September.

Ian Dowding, the original head chef of the Hungry Monk at Jevington in Sussex and inventor of the Banoffi pie, was on hand to judge the finalists on their ability to poach the perfect egg and create a signature dish using British Lion eggs. Winner Gary whipped up a perfect poached egg followed by his signature dish of Poached Egg, Smoked Bacon and Cockles with Hollandaise Sauce on Buttered Spinach and a Toasted Muffin.

Gary will now compete against regional winners from across the UK in the Eggs Factor final in London on 6 October. Michelin-starred celebrity chef Paul Merrett will be drawing on his expertise to decide just who will be crowned the 'Face of Eggs 2008'.
Further Reading