Minister Visits New Poultry Farm
BHUTAN - Ag Minister views the site of a new poultry farm.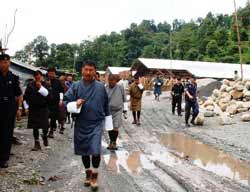 Minister Lyonpo visits a new poultry farm under construction at Hiley Geog Sarpang
The Honourable Lyonpo Dr Pema Gyamtsho, Minister for Agriculture visited Tsirang and Sarpang Dzongkhags from 3-6 September.

The visit was undertaken to access the crops and property damaged by elephants in June this year in Sarpang Dzongkhag.

He was accompanied by officials from the Ministry.