Poultry Farmers Step up Production
SEYCHELLES - Poultry farmers are set to gain vital skills so they can boost production with the aim of making Seychelles self-sufficient.
This is in line with the country's overall strategy to produce much more of its own food and cut back on imports, reports Seychelles Nation newspaper.

New techniques will be taught to farmers by agricultural extension officers who took part in a two-week training workshop that ended last week and dealt with both layer and broiler poultry.

These officers will pass on the information during frequent extension visits to farms, when they will promote a production target of three million extra table eggs and an extra 900 tons of broiler meat for the year ahead.

This will bring total production to 23 million table eggs and 2,500 tons of broiler meat a year.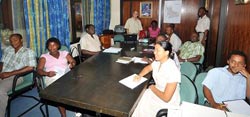 Training coordinator, Jimmy Melanie, said to hit this target the farming community must become more aware of the science of poultry bio-security and prevention of diseases.

He said the workshop meant that farmers should gain the expertise needed to overcome problems associated with increasing production to an acceptable level for the country.

Among skills gained by the extension officers were how to use equipment to better house poultry; how to identify and prevent the spread of diseases; and how to make use of laboratory techniques in the field.

During the training, led by Israeli experts Amir Ben-David and Hagit Arazi, the officers also visited a few farms so practical sessions could be held.

The workshop took place under the auspices of the Animal Health and Development Division of the Department of Natural Resources.

Mr Melanie said to achieve its goal the department will possibly have to put new structures in place and make available more laboratory space for slaughtering chickens.

The hatchery and feed mill will also have to increase their capacity, he added.