Animal Health Lab Internationally Recognised
AUSTRALIA - Australian scientists will be better prepared to tackle exotic animal diseases, such as avian influenza (AI), following international recognition of CSIRO's Australian Animal Health Laboratory (AAHL) in Geelong as an 'OIE Collaborating Centre for Capacity Building for Veterinary Laboratories'.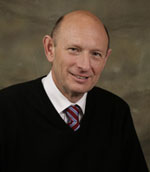 Australian Animal Health Laboratory (AAHL) Assistant Director, Dr Peter Daniels.
OIE Collaborating Centres are centres of excellence in a specific area of expertise relating to animal health issues. AAHL received this designation at the World Organisation for Animal Health (OIE) Annual General Assembly – the peak annual event in animal health circles.

According to AAHL Assistant Director Dr Peter Daniels, through laboratory capacity development activities in Australia and the South-East Asia region AAHL, has contributed significantly to the control of major animal diseases, including foot and mouth disease (FMD) and highly pathogenic AI.

"In several countries AAHL has been nominated as a collaborator of choice in enhancing diagnostic capabilities and is a key place veterinary colleagues look to for advice and services," Dr Daniels said.

"During the Nipah virus outbreak emergency in Malaysia in 1999, AAHL played an important regional role in capacity development that successfully eradicated the disease and established 'proof of freedom' of Nipah virus – a close relation to the Hendra virus. AAHL remains ready to provide support to the region during any future dangerous zoonotic disease crisis."

AAHL has worked with Australia's development assistance agency AusAID and the OIE in developing laboratory capability to deal with the H5N1 AI epidemic, including: underpinning technology development, biosafety training and quality assurance in laboratories throughout South-East Asia.

Australia's Delegate to the OIE and President of the OIE for Asia, the Far East and Oceania, Dr Gardner Murray, said AAHL's designation as a Collaborating Centre is an important building block in developing regional capability.

"AAHL is the only laboratory worldwide to receive this designation," he said. "This is a first class achievement and confirms the skills and expertise of AAHL scientists are internationally recognised."

AAHL will work with laboratories, particularly in Asia, to provide advice and training on laboratory quality management systems and diagnostic methods.

"Working together to improve the ability of neighbouring countries to diagnose disease enhances our collective ability to manage these serious infections of animals and reduces the risk to Australia and the region," Dr Murray said. "These skills are necessary if countries wish to detect quickly and with accuracy, key diseases such as AI and FMD, which not only assists neighbouring countries in their fight against livestock diseases but also supports Australian quarantine efforts."

Through this work AAHL's scientists will gain essential field experience and further knowledge working with diseases exotic to Australia, assisting Australia to better prepare for an exotic animal disease outbreak.