Aviagen Expands Feed Mill Capabilities
US - Aviagen recently completed a multi-million dollar expansion to its feed processing facility in Athens, Alabama. This expansion modified the facility to enable the manufacturing of feed for use on Aviagen's internal poultry production farms.
The feed processing facility was originally constructed in 1999 to produce a pathogen-free feed for Aviagen's internal farms. Prescribed mixed feed diets were purchased from an outside source and then stored before being transferred into a biosecure processing structure where applied thermal and mechanical energies produced biosecure, salmonella-free feed. The complete pelleted and pathogen-free feed was then sent to a biosecure storage building before being shipped to Aviagen farms across North America.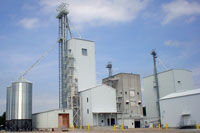 With this expansion, Aviagen is now able to buy high quality raw ingredients directly from manufacturers and produce the feed internally. All equipment was sourced and designed to generate precise, uniform feed. The accuracy and consistency of the new batching facility enhances Aviagen's existing, one-of-a-kind feed processing unit to provide the very best feed for its internal poultry production farms.

"This is a great addition to our facility's capabilities," said Richard Obermeyer, Aviagen director of feed production. "By sourcing our own raw ingredients, coupled with the design of the batching facility, we can achieve a more consistent, better quality feed at the most competitive price which adds value to our product and helps our customers be successful."

Plans for additional expansions at the feedmill are already underway as Aviagen continues to invest heavily in its facilities and people to provide the highest quality products and services.