Aviagen Launches Arbor Acres in Eastern Europe
GLOBAL - Aviagen is now offering customers in Russia, the Ukraine and Kazakhstan even greater choice with the introduction of Arbor Acres products into these markets.
Aviagen products are already popular throughout the region and demand is increasing at a constant rate. In order to best meet this demand for top-quality breeding stock, the company have announced an agreement to work with VIPP Agri Services B.V., an established Russian-based poultry agency, to promote and sell Arbor Acres products in these three countries. Working closely with VIPP will be Stanley Millar, Senior Sales Manager for Arbor Acres, supported by a dedicated Arbor Acres technical service team.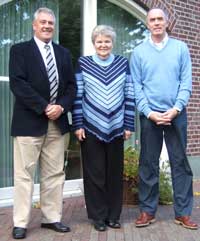 Stanley Millar, Tatyana Gordeeva and Bart Feijen
Customers can be assured that, like all Aviagen products, Arbor Acres is backed up by superior genetics, health and biosecurity and customer service.

Demand for Arbor Acres products has been growing consistently in recent years throughout Asia, the Middle East, Africa and Latin America reflecting customer satisfaction in the excellent performance at breeder and broiler level

Tyark Osterndorff, Business Manager for Eastern Europe and the CIS, commented, "We are committed to providing customers with a choice of products to best suit their requirements. Arbor Acres is one of the most respected brands in the poultry industry and the Arbor Acres Plus is a product that is very well suited to the Russian, Ukrainian and Kazakhstan markets.

We are excited about launching Arbor Acres in the region and are delighted to be working with VIPP. They have an excellent standing in the poultry industry in the region and we look forward to working extremely closely with them in making the Arbor Acres brand a success."

Bart Feijen, VIPP General Manager, said, "We are delighted to be working with Aviagen on this exciting development. I am confident that Arbor Acres will prove to be very popular with customers and will add value to their operations. My colleague, Mrs Tatyana Gordeeva and I look forward to meeting with customers to highlight the benefits Arbor Acres products can provide for their businesses."