Aviagen Strengthens Eastern European Team
SCOTLAND - Aviagen is pleased to announce the appointment of Danny Rotherham to the position of Technical Manager, Eastern Europe.
Danny Rotherham will work closely with the other members of the Eastern European team to provide technical support and advice to customers in the region. He joins Aviagen with a wealth of experience and knowledge of the poultry industry in the region, coupled with overall management experience. Danny has extensive first-hand experience with Aviagen products, having been a Ross customer for many years. This puts him into a unique position to understand customer needs and offer tailored management advice.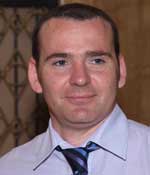 Danny Rotherham
Over the next few months, Mr Rotherham will complete an intensive induction programme to develop his knowledge of Aviagen's products and technical service. To achieve this he will be working closely with Jonny and the rest of the team in Eastern Europe as well as his colleagues in the UK. He will meet customers in the area on his trips and forthcoming seminars.

Jonny Harrison, Regional Technical Manager, commented, "Danny has fifteen years' industry experience and will be working all across Eastern Europe. He has worked in Hungary for four of those years and has a great understanding of local environmental conditions that can affect flock performance. This, coupled with his technical experience, makes him ideally placed to give practical, helpful advice to our customers.

The CIS and Eastern Europe is a huge area for the team to cover and Danny's appointment will go a long way to strengthening our support in this growing area with ever-increasing customer demand."