Big Dutchman Visits Kaluga, Russia
RUSSIA - In the presence of the governor of Kaluga, Anatoli Artamonov, and the minister of agriculture Leonid Gromov, a group of five companies from the agro-industry laid the foundation for a technological centre in Detschino.
German manufacturers for agricultural machinery, Grimme and Lemken, together with Big Dutchman and the construction company, Wolf System, are going to erect their Russian branch offices on a 45-hectare site 130 kilometres south-west of Moscow.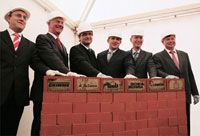 From right to left: Anatoli Artamonov (Governor of Kaluga region), Franz-Georg von Busse (managing director, Lemken GmbH & Co. KG), W. Nepomnjaschi (assistant general manager, OOO EkoNiva), Michael Stadler (managing director, Wolf System GmbH), Dieter Hempelmann (chief representative, Big Dutchman) and Alexander Schuhmann (export manager, Grimme Landmaschinenfabrik GmbH & Co. KG)
The German-Russian dealer for agricultural machinery EkoNiva completes the quintet so that visitors of the centre for agricultural technology will soon be able to get a good overview of the most up-to-date products of the industry.

In his speech, Governor Artamonov stressed the importance of the agricultural industry for the economic growth of the Kaluga region and Russia as a whole. He thanked the investors for their commitment and their contribution to the further development of Kaluga as a high-tech region.

As spokesperson for the companies involved, Dr von Busse, managing director of Lemken, announced that 100 jobs will be created already during the first construction stage of the unique centre in Russia. The overall investments of initially more than €20 million will be the basis for the construction of modern assembly and production facilities.

The five companies are planning to open their distribution and service centres as well as their show rooms for technical equipment by the summer of next year with the goal to serve the entire Russian market from Detschino. Since the centre of agricultural technology is located in close to the central agricultural school of the Kaluga region, the companies have an excellent opportunity to recruit qualified new staff also thanks to the close cooperation with the school on technical and practical training.