CME: Overall Health of Meat Sectors
US - CME's Daily Livestock Report for 7 October 2008.
US consumers have been steadily moving their food purchase dollars to the grocery aisle and this does not bode well for the US meat industry. The charts below reflect the results of the monthly Advanced Retail Sales survey, which provides a snapshot of sales at a number of retail outlets, including grocery stores and foodservice and drinking establishments. It is important to note that the survey captures total dollar sales and consequently cannot be used to measure actual demand. Sales can increase for a number of reasons, higher prices, increased traffic, longer operating hours, or a combination of all of the above.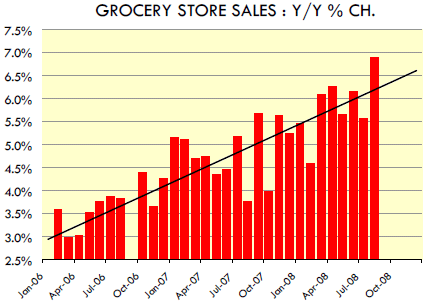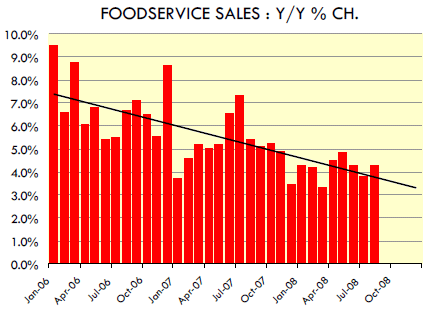 Nevertheless, the long term trends should provide some indication as to the overall health of a particular sector and when examining food sales since 2006, it is clear that foodservice sales have been losing considerable ground. The dollar sales growth rate for the industry has been cut in half in this time period, reflecting the significant reductions in overall traffic, especially in concepts such as family dining. More recently, fine dining establishments also have shows a notable decline in customer traffic. Fast food is doing better than other concepts but results there also are disappointing.

The implications of a slowdown in foodservice sales for the meat industry in general and beef industry in particular are unquestionably negative. Consumer choices in the grocery isle are quite abundant and in an environment of rising food prices and negative disposable income growth, consumers will be extra cautious with their dollars, often substituting the high priced meat protein for less expensive items. We have always thought that in order to look at the health of the meat industry, one has to pay close attention to the foodservice sector.

Meat consumption is the primary focus of the US foodservice industry with beef taking the number 1 spot in the battle for the "center of the plate." Chicken is number two and pork is a distant number three. Restaurant meals have provided a significant boost to overall meat sales in the US in the last two decades. During the late 1990s and then again in the middle of this decade, increasing asset values and rising wealth (in large part due to higher home values) caused US consumers to eat out more, which in turn helped support US meat consumption and boost prices. US consumers are feeling considerably less wealthy today and with equity, bond and home values declining there will likely be a lot more people grabbing a shopping cart in the months to come.