Cobb Expands Franchise Network across Asia
GLOBAL - Eight new franchise distributors have been appointed by Cobb in the past year covering the Philippines, Indonesia, Bangladesh and Sri Lanka.
The two new distributors in the Philippines - Gama Foods of Cagayan de Oro City, and Bounty Fresh of Caloocan City - will strengthen further the breed's popularity in the country.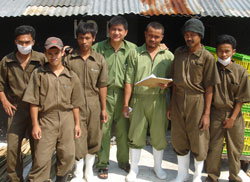 Orly Fernandez, Cobb-Vantress, (centre) with the production team from PT Peternakan Ayam Manggis who did the first Cobb 500 grandparent selection on the grandparent farm located outside Jakarta in Indonesia.
In Indonesia the new distributors are Wonokoyo Group, of Surabaya, and PT Peternakan Ayam Manggis, of Jakarta; in Bangladesh - CP Bangladesh Co, of Dhaka, and both Sanowara Group and Kasila Farm, of Chittagong; and in Sri Lanka - Fortune GP Farm (Bairaha Group), of Katana.

"The exceptional feed conversion of the Cobb 500 has been the driving force behind the tremendous growth of our market share in the Asian region over the past year," says Mark Glavey, Asian sales director of Cobb.

"Record high prices for grain and soya have focused attention on the value of feed efficiency. There is wide variation in the ages and weights to which the Cobb 500 is being reared - from 1 to 3.5 kg - and across the whole range producers are benefiting greatly from its advantage in feed conversion."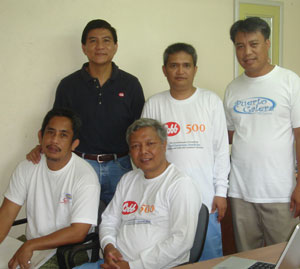 Pictured at the Cobb-Philippines grandparent farm office in Tanay, Rizal, Philippines. From left (seated): Rolando Sanchez (Cobb Philippines) and Mr Nesa (GP manager, PT Peternakan Ayam Manggis). From left (standing): Orly Fernandez (Cobb-Vantress), Dr. Bambang (PS manager, Manggis) and Jun Balag (GP manager)