International Egg and Poultry Review
US - By the USDA's Agricultural Marketing Service (AMS). This is a weekly report looking at international developments concerning the poultry industry. This week's report covers the poultry situation and outlook in Ukraine.
National Bank of Ukraine Bans Advance Payments for Imports
In October, weakness in Ukraine's national currency, the hryvana, led to a run on banks. The exchange rate fell to 6.05 hryvna per U.S. dollar on October 24, down 21% from 4.77 on September 1, 2008.

The National Bank of Ukraine (NBU) began heavy foreign currency interventions on the Interbank Currency Exchange on October 9, 2008, as the hryvna (Ukraine's currency) fell in value. Sizable dollar injections only partially reached the target due to significant speculative demand growth for US dollar. Part of this speculative demand came from "fake importers" buying currency for virtual import contracts in hope to sell it later at better rate. Ukrainian legislation permits advanced payments abroad within 180 days prior to the delivery of imported commodity. This rule was abused by the currency speculators wiring purchased foreign currency abroad and undermining the NBU efforts.

In order to prevent the meltdown of Ukrainian banking system, on October 13, 2008 the National Bank of Ukraine enacted Decree #319. The Decree restricts foreign currency purchases if the currency is intended to be used for advance payment on import contracts. All payments prior to custom clearance of the imported commodity are considered to be advance. This makes execution of most concluded contracts impossible. The amount of U.S. agricultural commodities affected could be very significant.

The Decree sets severe limitation on extension of new loans for commercial banks; bans early deposit release; and limits the foreign currency retail Buy- Sell spread to 5%. The Decree also bans foreign currency purchases if the currency is intended to be used for advance payment on import contracts.

The advance payment is a common tool used by U.S. exporters to insure payments. In most import contracts the first payment is made when the vessel with product leaves the US port and the final payment is made when commodity reaches the Ukrainian port (typical CIF contract). Due to extremely complicated import rules and corruption the U.S. exporters usually prefer to stay away from transactions inside the country.

Chapter 4.4 of the NBU Decree bans foreign currency purchases for imports of products without proof that the product was delivered to Ukraine. In interpretation of Ukrainian commercial banks the only proof of delivery is Customs Freight Declaration (CFD) issued by the Ukrainian Customs Service upon customs clearance.

This way in order to be paid, the U.S. exporter would have to transfer ownership right to the Ukrainian importer, allow for custom clearance and duty payments, wait for currency exchange and hope to receive payment after that. All these would be in violation of the existing export contract terms. Significant risk not to be paid at all puts the entire import/export operations in danger.

The NBU did not allow for any transitional period for contracts in process. This puts all U.S. exports with products "en route" or in Ukrainian ports at risk. Due to a consequence of events, FAS/Kyiv estimates the amount of U.S. product that might be affected is between $70 and $100 million.

U.S. Dollar and Japan's Yen Strengthen
The global crises is strengthening the U.S. dollar and the Japanese yen. Investors who borrowed money with low interest rates from the U.S. and Japan are liquidating risky investments and buying U.S. dollars and Japanese yen to repay those loans. In addition, the dollar is considered world's reserve currency and a safe haven.

The International Money Fund (IMF) responded to the financial turmoil and announced an initial $2.1 billion two-year loan to Iceland and a $16.5 billion loan to Ukraine to support economic recovery in those countries. The IMF also reached an agreement with Hungary on a set of policies to bolster Hungary's economy and will announce a financing package in the near future.
Source: International Monetary Fund, news wires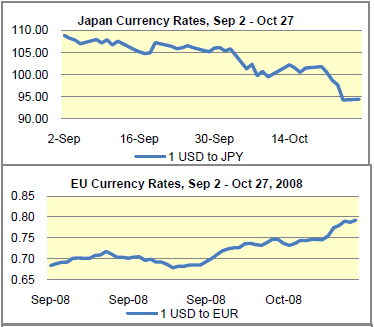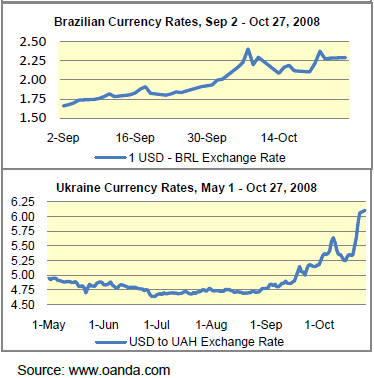 Further Reading