Mortalities Reported from Red Mites and ILT
UK - The latest Monthly Surveillance Report from the Veterinary Laboratories Agency (VLA) covering poultry during August 2008 includes hen mortalities from red mite infestation, and unusual cases of infectious laryngotracheitis (ILT).
Red Mite
The death of an adult backyard chicken examined at Carmarthen was found to be caused by red mite infestation. Two birds had died in the last two and a half weeks out a group of 6 birds. The carcase was pale and there were large numbers of mites seen in the mouth, oesophagus and crop of the bird, and also amongst the shavings in the bag in which the bird was delivered. The mites were identified as Dermanyssus gallinae.

Shrewsbury also investigated an incident involving the deaths of eight birds from two houses containing 300 birds in the period of a week. The birds had been laying well, but production had recently decreased by 10% and individual birds appeared listless the day before death. Many mites were present on a carcase submitted which showed generalised pallor with watery blood, pale liver and oedematous lungs. The mites were confirmed as red mites.

Bury diagnosed severe anaemia in 25 to 35 week-old free-range laying hens associated with a massive red mite infestation. Eight of 30 were found dead in the mornings over 10 days after showing short-term lethargy.
Infectious Laryngotracheitis (ILT)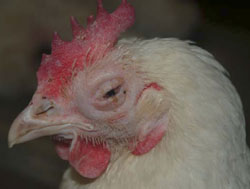 Facial lesions associated with acute ILT in a chicken
Poor production was reported in 30-week-old housed layers. Swelling around the eyes and depression (see figure) had been the main clinical signs reported. Four live birds were submitted to Shrewsbury; the birds sat with their eyes closed and head on their backs. There was a clear to pale watery discharge from the eyes and an excess of mucus in the tracheas with necrotic material around the larynx and proximal trachea of two of the birds. Histological examination of affected trachea showed syncytial forms and the presence of eosinophilic intra-nuclear inclusion bodies consistent with ILT.

In a separate case, high unexpected mortality in a flock of 25 backyard hens prompted a suspected notifiable disease report to the DVM. Five birds from a group of 25 were found dead on one day, with three further deaths before submission. Sneezing was reported in some birds. Further enquiries ruled out the possibility of an avian notifiable disease and post-mortem examination revealed pathology in the upper respiratory tract, particularly signs of sinusitis. Histological findings were highly suspicious of ILT and virus isolation revealed a herpes virus. It was thought that introduction of the virus to the flock may well have occurred when coming into contact with other birds at shows.
Further Reading