Sasso Responds to Shift in Consumer Buying Habits
FRANCE - The launch of the Cobb Sasso 150 is the company's first product specifically to supply the demand for slower growing chickens - a market that Sasso has been targeting for 30 years.
This year marks the anniversary of the organisation's beginning in south-west France during a period when standard 2.1 to 2.2kg chickens frequently took up to 60 days to reach this target weight.

It was a time when demand for Label Rouge chickens was fast expanding. The brand Label Rouge required slow growing birds reared on free range, to be grown to at least 84 days and weighing 2.1kg or more at slaughter.

An association of Label Rouge producers came together to form SASSO, an abbreviation from the full name, Sélection Avicole de la Sarthe et du Sud Ouest, reflecting the regional nature of the group at that time.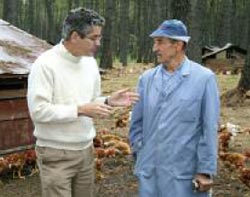 Amid this flock of woodland chickens reared for the premium Liberté brand of Label Rouge, executive director Louis Perrault is talking with former Sasso president Georges Berbille who was involved in creating the designation more than 40 years ago.
Writing in the leading French poultry journal of the day, L'Aviculture, editor Gerard Le Boucher described the aims of the founder, Serge Perrault, «M. Perrault ne l'a pas sélectionné ensuite sur des critères de rapidité d'engraissement commes les autres souches américaines, mais plutôt sur des caractères organoleptiques et de croissance lente et homogène.»

In simple terms, Monsieur Perrault was breeding for slow growth and uniformity. This was often coupled with the gene for a bare neck, a trait still of many Sasso lines even today. This gene was associated with little difference between male and female weights - a maximum of 400 grams, according to the L'Aviculture article.

Today Serge Perrault is living in the Toulouse area at the age of 87, and it his son Louis who is executive director of Sasso.

"The specification for Label Rouge hasn't changed for more than 40 years," he says. "The big challenge for us now is to keep the weight down to the target at 84 days. We can select for improved yield and feed conversion - but not for growth."

Today Label Rouge has around 20 per cent of the French market with Sasso breeds the most widely used. A select proportion of this market termed Liberté grows chickens to an even older age - to 120 days providing total freedom for the birds to roam in woodland by day.

Yet rising feed prices and the higher cost of chicken in the shops is having an impact on the buying habits of French consumers. Label Rouge has been under pressure and a new market is opening up for chickens of 49 to 56 days of age retailing at least 30 per cent cheaper.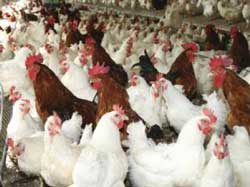 Cobb Sasso150 grandparents at the Sasso breeding farm in the splendid isolation of Les Landes pine forests near Sabre in south-west France
This is the sector into which the Cobb Sasso150 is being launched in the French market, with one of the leading producers rearing an increasing volume through the autumn.

It is not just in France and western Europe that Sasso has a reputation for slow growing and coloured chickens that suit niche markets. More than 50 per cent of its sales are for exports with the biggest markets in south Asia.

The organisation is based at Sabre in Les Landes, the vast expanse of pine forest between Bordeaux and Biarritz where the pedigree farms have complete isolation from other poultry enterprises. There is a second hatchery in the Sarthe region in northern France closer to the airports of Rennes and Paris for handling exports.

Within the Sasso breeding programme is a gene pool of traits that have benefited the demand for niche products in France and many other countries. They could well enjoy a new popularity in markets where a growing minority of more affluent consumers are looking for more traditional types of chicken and even in these difficult financial times prepared to pay extra for such qualities.