World Poultry Show at EuroTier
GERMANY - A record and international meeting point for the poultry sector is promised by the show organisers.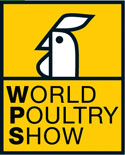 The World Poultry Show (WPS) at this year's EuroTier 2008 is set to become the huge international gathering point for the poultry sector. Companies and organisations from this sector are enrolling in massive numbers to become a part of the 2008 exhibition.

The World Poultry Show has been a major player with regard to EuroTier's growth this year. 220 poultry specialist companies and organisations from all over the world, including market leaders in the fields of breeding, production and processing, have booked stands so far. They will be presenting their new and further developments in Hall 11 and even part of hall 12.

Visitors connected with the poultry sector will be able to enjoy the strong synergies provided by the cross-species exhibition segments at EuroTier, for instance feeding and feed storage, animal health that are not to be found in such depth and range at any other exhibition. These are located in hall 14 and 15, which are aimed at all species, including pig, dairy and cattle. This sector alone will account for over 320 exhibitors dedicated exclusively to feed and associated products on over 22,000m2 hall space. Additionally, EuroTier's BioEnergy Europe exhibition offers a range of bioenergy possibilities for the poultry farmer including manure handling, presented in hall 24 and 25.

"The proportion of poultry exhibitors from outside Germany is almost 70 per cent - higher than it has ever been before in this sector. This will make the World Poultry Show the highlight for the entire international poultry sector this year," says Dr Karl Schlösser, EuroTier's Project Manager.

The European Poultry Club, the European network of poultry experts, is hosting a panel discussion on the 10th November, a day before the EuroTier opens its doors to the public. Speakers at the forum will come from all over the world with representation from IPC, Brazil through ABEF, Australia's IEC and Germany's EUWEB. The panel will address key global pressing issues. In addition, the panel will discuss the implications of the enlarged EU and worldwide

The traditional International Poultry Event will take place that evening at 19:30 and will include speakers from the European Poultry Club and keynote speaker, Rick Greubel of the Tyson Group. This event and the panel discussion require invitation and prior registration.

For the first time at EuroTier every afternoon in hall 11 selected forum presentations are being translated into English. These presentations have international relevant topic and will cover veterinary, academic, scientific and marketing/consumer trends. Additional forums will relate to nutrition and feedstuffs/feeding.

Again at EuroTier for the first time, European veterinarians will be part of EuroTier through their own veterinary exhibition held in hall 16. The German Association of Veterinary Practioners (bpt) is hosting this part as well as its annual congress. Additionally an International Animal Health evening event to be held on 13 November organised jointly by the DLG and bpt and the Federation of Veterinarians in Europe (FVE). The evening event will enable veterinarians from all over the world to meet to discuss matters of mutual interest.

EuroTier 2008, the world's largest exhibition for professional animal husbandry, will take place in the city of Hanover, Germany on 11-14 November 2008.

You can find out more about EuroTier 2008 by clicking here.