Arbor Acres Celebrates in Buenos Aires
ARGENTINA - Arbor Acres has recently held a global forum in Buenos Aires, which included a celebration of the company's 75th anniversary.
Aviagen, the world's leading poultry breeding company, recently held its second Arbor Acres Global Forum in Buenos Aires, Argentina. This meeting served as a platform for Arbor Acres distributors and other invited guests from around the world to participate in discussions and presentations highlighting the success of the Arbor Acres product and to learn the latest poultry industry news and trends.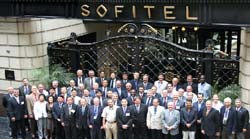 "This event is a wonderful opportunity to stimulate dialogue and transfer knowledge between Aviagen and our distributors to maximize the long term success of Arbor Acres," said Bob Dobbie, president of international business for Aviagen.

The three-day event brought together more than 70 participants from 18 countries to gain a global perspective on issues such as market changes and trends, nutrition, welfare, and research and development. The representatives also gave presentations on the current situation in their own countries.

This year marked the 75th anniversary of the Arbor Acres brand. To commemorate the milestone, attendees were treated to a festive celebration at the beautiful Estancia La Candelaria just outside of Buenos Aires. At La Candelaria, the guests enjoyed the famous Argentinean cuisine, a polo match and a fireworks display.

"We are very proud of the rich history of the Arbor Acres brand," said Mr Dobbie. "It was wonderful to celebrate this occasion with other members of the Arbor Acres family and we look forward to many more successful years."