Big Dutchman Launches Innovative Air Inlet
GERMANY - Big Dutchman has responded to the trend towards larger and wider poultry houses by introducing a new air inlet called Flex.
"The name pretty much says it all," says product manager Winfried Pagenstert. "Flex is characterized by a flexible choice of inlet sizes. It is therefore possible to install different air rates adapted to different house dimensions."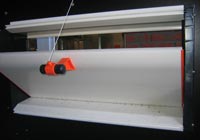 There is a Flex air inlet for all situations
One of the main advantages of the new Flex air inlet is the fact that the upper frame profile was integrated in the airflow duct which makes for sophisticated aerodynamics and thus a stable air stream.

Moreover, special attention was given to the optimization of insulation and air-tightness, so that Flex suits regions with extreme climates.

The patent is pending. The German utility patent has already been granted.