CME: Crude Oil Prices Impact Livestock Production
US - CME's Daily Livestock Report for 18 November 2008.
Notice: As you click on the link below, please find a special notice regarding the start of trading of options on Feeder Cattle futures on the CME Globex trading platform.

Crude oil prices continue to plummet and this remains a bearish influence on grain prices. As the below chart shows, crude oil and corn prices have moved almost in lockstep for the past two years, in large part thanks to the increased linkages between the corn feed and energy sectors.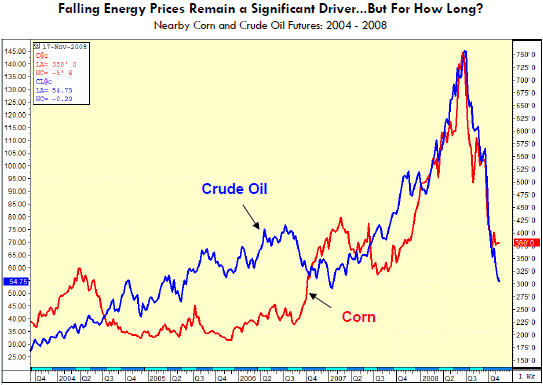 The ethanol industry remains one of the largest users of US corn stock at this time (estimated at about 32% of overall US corn usage in 2008-09) and this will continue to make the corn markets especially vulnerable to the extreme volatility in the energy market. If the relationship between crude oil and corn is to hold in the short term, one could see corn prices continue to drift further into December.

Reports indicate that current new corn crop sales are very light, possibly indicating that US corn producers are somewhat more bullish on the price outlook for 2009 than the futures market. But, if ethanol and world demand continue to slump, it will be difficult for corn values to maintain any significant rally going forward. The strength of the US currency clearly is a concern as is the weakness in the US livestock industry. Indeed, with all the talk of possibly slumping ethanol demand, it is also important to consider the expected contraction in livestock and poultry production. The latest USDA report indicated that egg sets are currently 11% lower than year ago levels and have declined in double digits for the past two weeks.

If large poultry producers are forced to declare bankruptcy, and possibly liquidate, it could cause significant disruptions in the feed grain markets and put further pressure on grain prices in 2009. As for beef, prices remain under pressure following the decline in equity values and talk about weak beef demand. Feeder cattle contracts were hit especially hard in today's trading, with futures declining by as much as 265 points (Feb '09 contract) and most contracts establishing new life of contract lows. Feeders were pulled lower by the weakness in live cattle futures and did not get much support by lower corn futures. As for hogs, the market traded mixed today but continues to be weighed down by speculation of weakening export sales and uncertain outlook for US supplies in 2009.